The summer is here which means it's a good time to finally read all those articles and reports that have been sitting in our bookmarks folder!
And if you're looking for some more reading material specifically on Open Banking, we've put together a handy list to help you get started.
What's happened over the past year? Since our 2020 summer reading list was published, we've seen the Open Banking space mature all around the world despite the pandemic and its challenges.
Strong Customer Authentication (SCA) has been rolled out and implemented across Europe, and in Spain, some banks have begun soft declining non-authenticated transactions above 30 EUR.
We're also seeing increased adoption of Open Banking enabled products across Europe, with tangible results: the UK now boasts 2.5 million customers and businesses using Open Banking enabled products, along with 300 fintech providers that have joined the ecosystem.
Fintech is hotter than ever this summer (pun intended) and the pandemic seems to have helped boost its adoption across the world. Whether you're an Open Banking veteran or new to the scene, these reads will keep you busy this summer: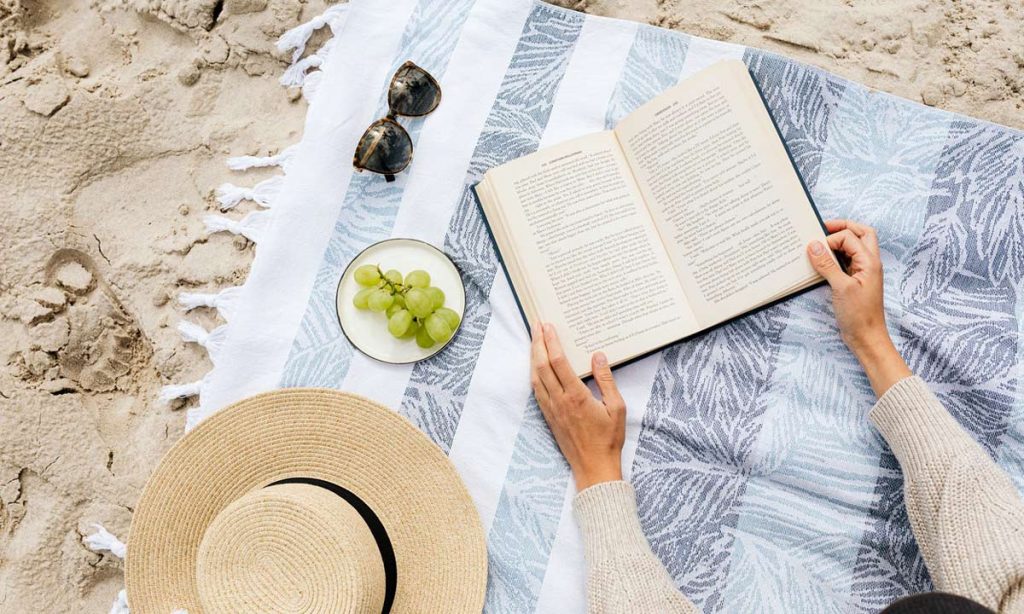 Open Banking is the first step towards the real goal: Open Finance, or one step further, "Smart Data". A world where information is more accessible and secure, and where consumers can choose who has access to their data.
Open Finance is a movement that would enable other financial data such as mortgages, pension funds, and insurance to be accessible by third parties — instead of just banking products.
With Open Finance, consumers would be able to see all their financial products on one dashboard, choose who to share their data with and therefore have access to much more personalized products. With this new level of transparency, Open Finance is key to reaching a fairer financial society.
👉 You may like: Everything you need to know about Open Banking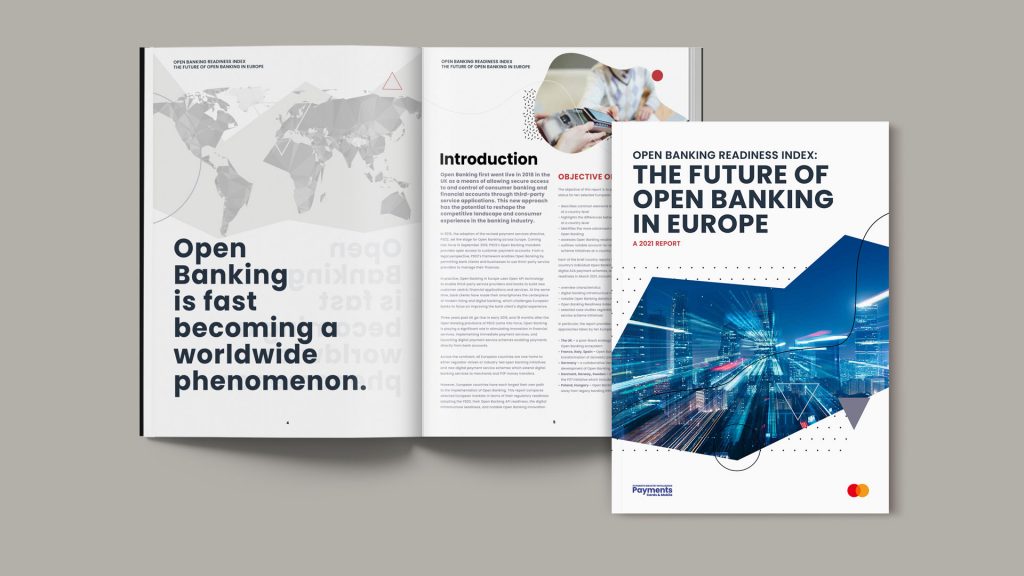 This report is the most comprehensive and up-to-date report on the state of Open Banking in Europe we've found so far.
In this report, the writers compare several European markets with their readiness in adopting PSD2 and Open Banking APIs. At the time of writing, 36 countries in the EU host Open Banking initiatives.
The report highlights certain common elements that each country shares, as well as various differences. Some similarities, for example, are that all countries have successfully implemented PSD2 into national law, and all European retail banks offer online banking services. However, differences include diverse approaches to the creation of Open Banking API standards: some are domestic, while others are outsourced to a single bank serving aggregator.
They also put together an Open Banking readiness index, which compares progress across several countries.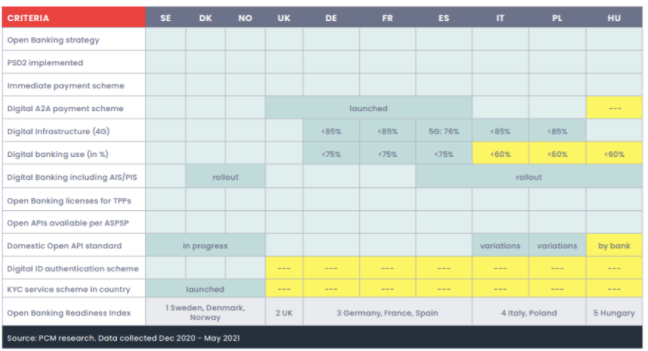 They then follow the comparison with a comprehensive overview of Open Banking in each individual country.
This is a must-read report for those who want a full, up-to-date overview of the entire Open Banking European ecosystem.
👉  You may like: The banks leading Europe's Open Banking API landscape
Although a similar topic to above, this piece is an interview with Andréa Toucinho, from Partelya Consulting. In the interview, they compare how various countries are doing with their approach to Open Finance.
Andrea wrote a white paper on the various Open Banking case studies in Europe, which explains why some countries have been proactive with Open APIs — such as Nordic countries, the UK, and Spain — whereas countries such as France have not embraced it as easily due to security concerns.
The interview also covers the differences between Open Banking in Europe and other countries across the pond such as the US and Brazil.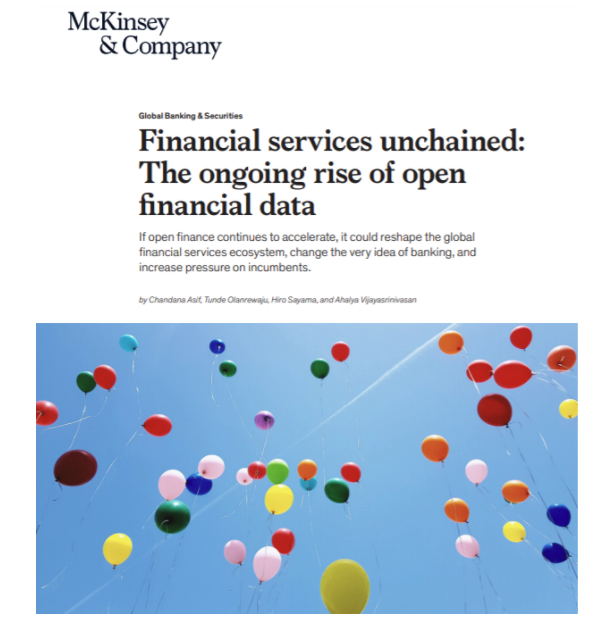 How is Open Banking impacting regular citizens? Which population will benefit the most from Open Banking?
In this report, McKinsey analyzes the direct impact of Open Banking in the UK, where the initiatives have had longer to play out.
They share some interesting findings, such as the fact that consumers are twice more willing to share data if it is made clear to them which feature or service will benefit them. The report also explains that consumers who are financially stressed are the key segment for Open Banking solutions.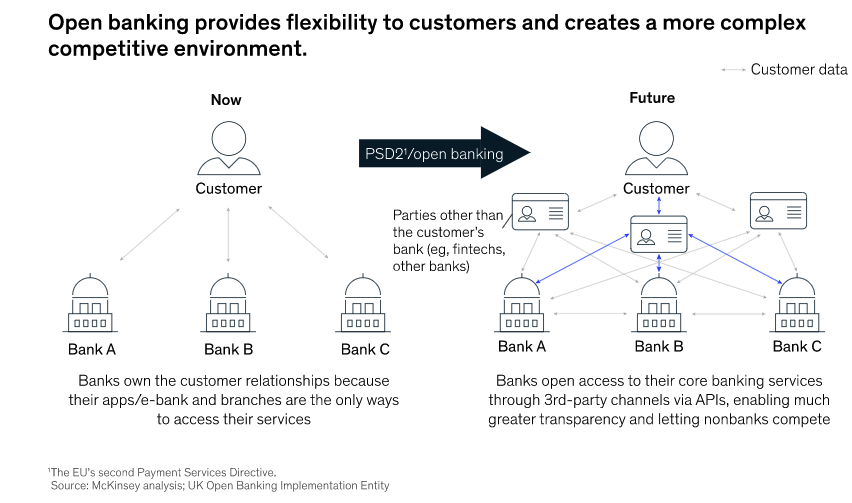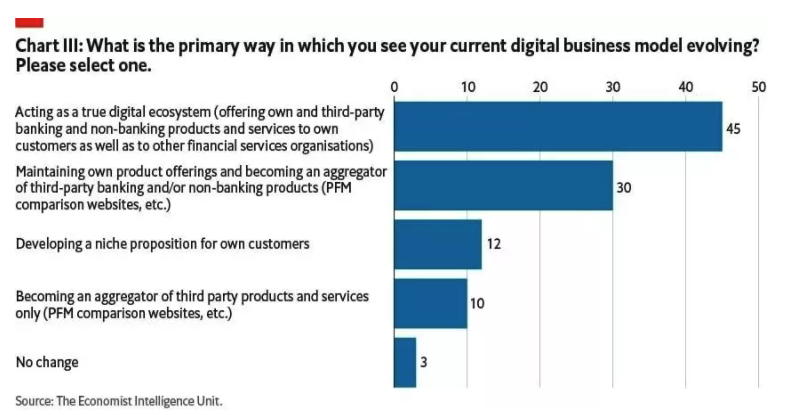 Open Banking is now three years old! So what's next?
This article by the World Economic Forum summarises some of the main conclusions based on Open Banking developments. Some of these include the astonishing appetite for innovation, the interesting difference across regions, and how Open APIs are helping banks embrace digital technology.
SCA is the last directive that was rolled out as part of PSD2. In Spain, it has been enforced since the 1st of January of this year, and some banks are already declining transactions if they don't follow SCA compliance rules.
The purpose of SCA is to enable secure online transactions and decrease the rates of Card Not Present fraud. However, merchants are struggling with SCA and some are already experiencing increases in cart abandonment rates.
In order to make the most of SCA while remaining compliant, merchants need to ensure they are taking the right approach and communicating it effectively to customers. This piece provides five key initiatives to help unlock the potential of SCA.
👉 Find out more: The many issues with Strong Customer Authentication