PSD2 stands for the Second Payment Services Directive. It is a European Union's regulatory framework that enables account aggregation and payment initiation for electronic payment services. It was administered by the European Commission and its goal is to foster innovation in the European payments space as well as make online payments safer and more transparent.
As an authorized Electronic Money Institution regulated by the Bank of Spain, Unnax is licensed to provide payment services in Europe.
Unnax Regulatory Services is a licensed Electronic Money Institution registered with the Bank of Spain, registration number 6719.
PSD2 mainly affects banks, but it also affects third-party companies that want to get involved in payments. As such, the main players are banks, PISPs and AISPs.
PSD2 forces banks to open up their customer data to other licensed providers. In other words, with PSD2 customers can give other companies access to their financial data. But it can't be with just any company. There are two types of licensed providers:
PISP stands for Payments Initiation Service Provider: these are third parties that use online banking to push payments. They essentially create an interface that facilitates initiating a payment from a consumer to a merchant's account.
AISPs are Account Information Service Providers: these are third parties that collect and store information and can then use this data to help customers manage their money and have a better overview of their finances. They cannot execute payments on behalf of a customer, unless they also possess a PISP license.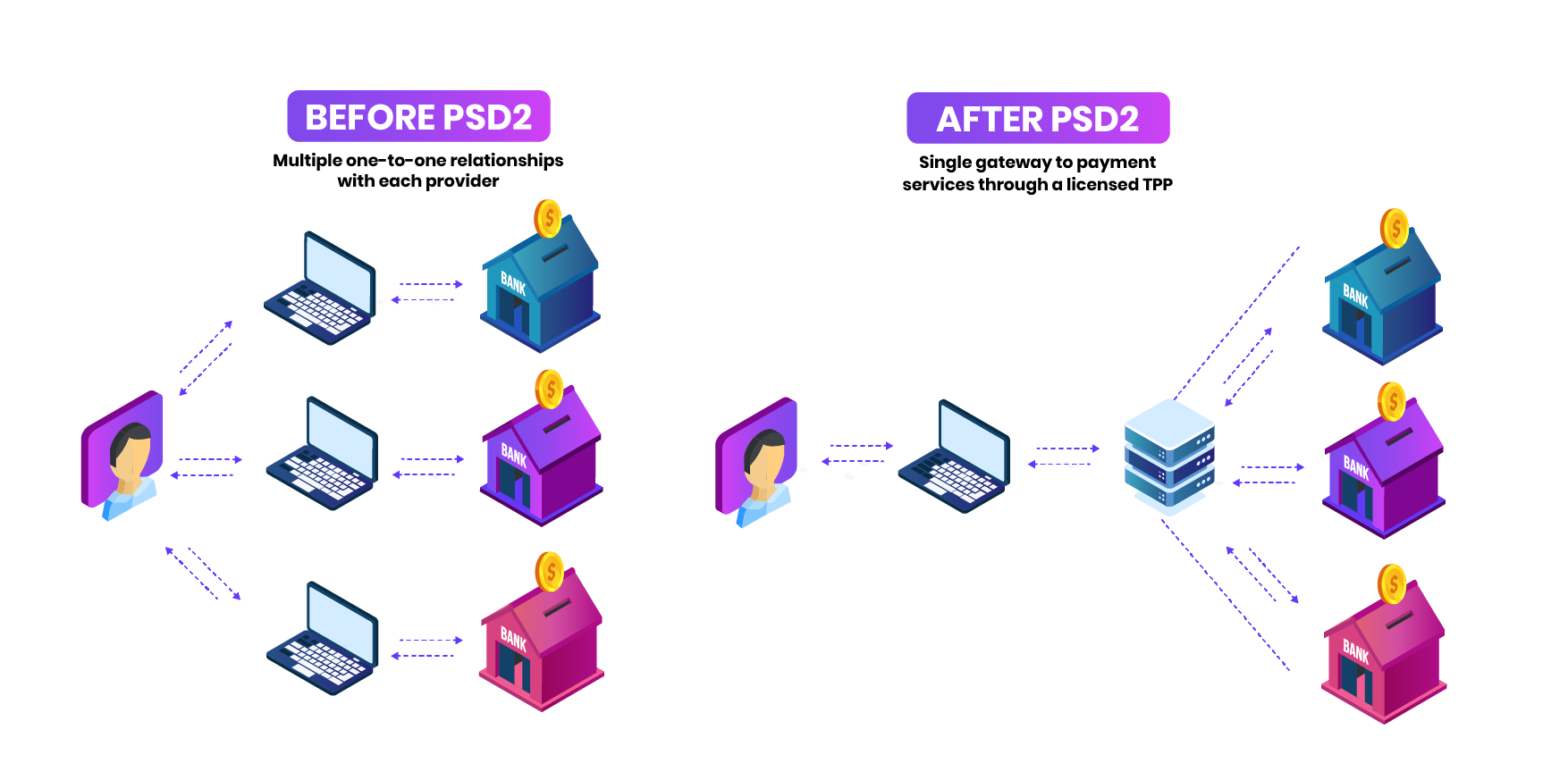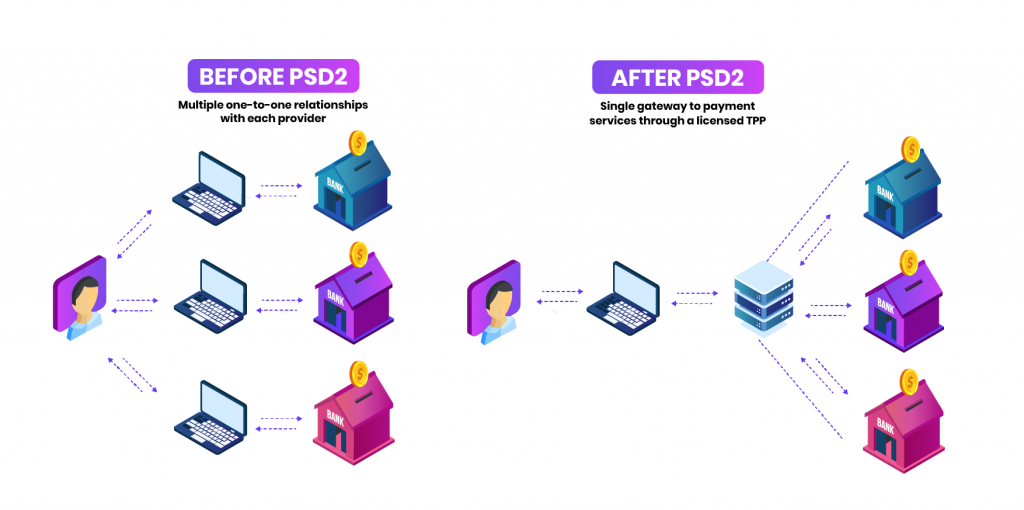 What are the objectives of PSD2?
There are two main reasons why PSD2 was put into place:

Making consumer data shareable means that customers can switch financial providers and take their data elsewhere. This helps build a more competitive landscape and encourages banks to offer better services and products, as well as level the playing field for payment service providers and third-party innovators.

With products such as account aggregation, for example, customers are able to see all their various financial accounts on one screen, use advanced budgeting apps and make payments from third-party apps.

PSD2 helps democratize financial services by making it a lot easier for third parties to enter the market. Many of these companies create products and apps that are more customer-centric, more intuitive, and meet customers' needs more effectively.
A big part of PSD2 is the implementation of newer and safer security protocols, the main one being SCA (Strong Customer Authentication) using 3DS2 technology. This new innovation is being put in place to help keep identities secure online, specifically for digital payments. Another way that PSD2 enables safer payments is through account-to-account payments.

These are payments that bypass card networks and are similar to direct bank transfers. Since they are executed via APIs, payments are therefore a lot more stable and secure than screen scraping or sharing personal details.
Here is a brief overview of how PSD2 has evolved in the past few years: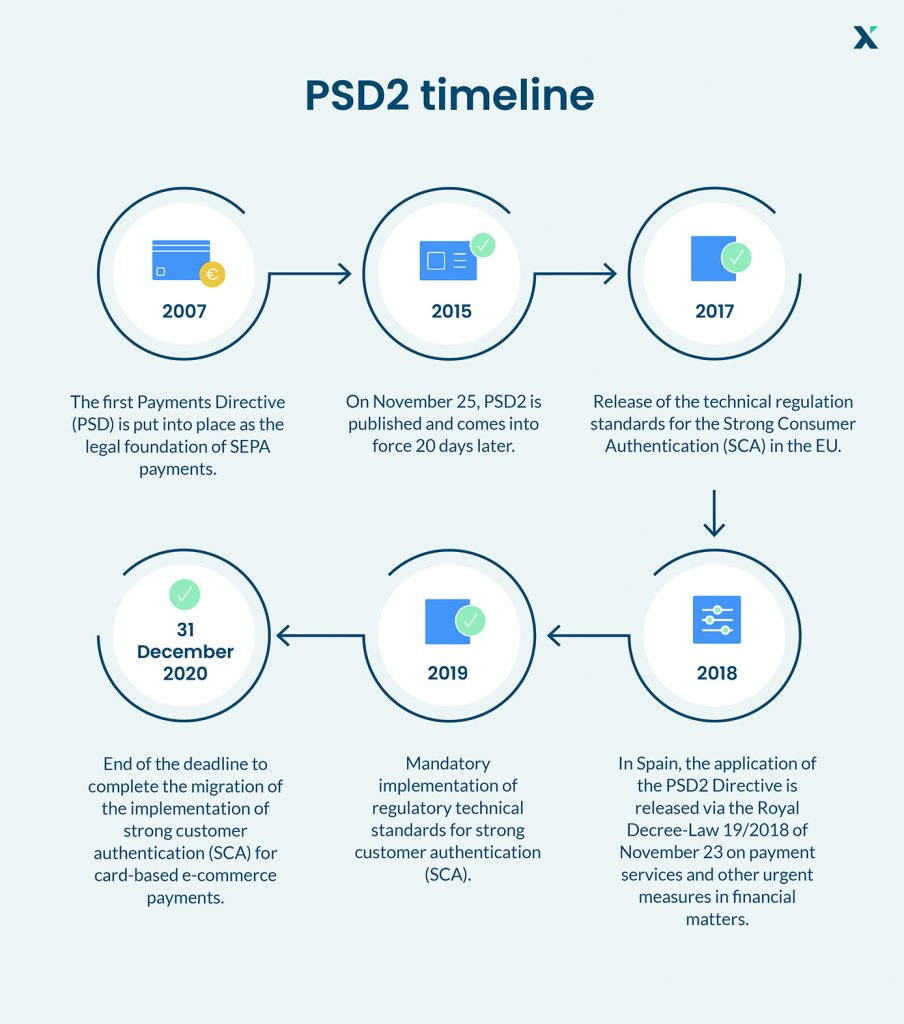 As mentioned above, SCA is a pillar of the PSD2 initiative. With SCA, digital payments become a lot more secure through two-factor authentication.

That means that every time a customer wants to purchase something online, they need to provide two out of these three:


There are exemptions to these requirements, such as payments under 30€ or repeat direct debits. The main objective of SCA is to help decrease Card Not Present fraud, which has been on the rise since digital payments took off in 2020.
If you want to implement and carry out PSD2, where do you begin? There are two main ways to get started: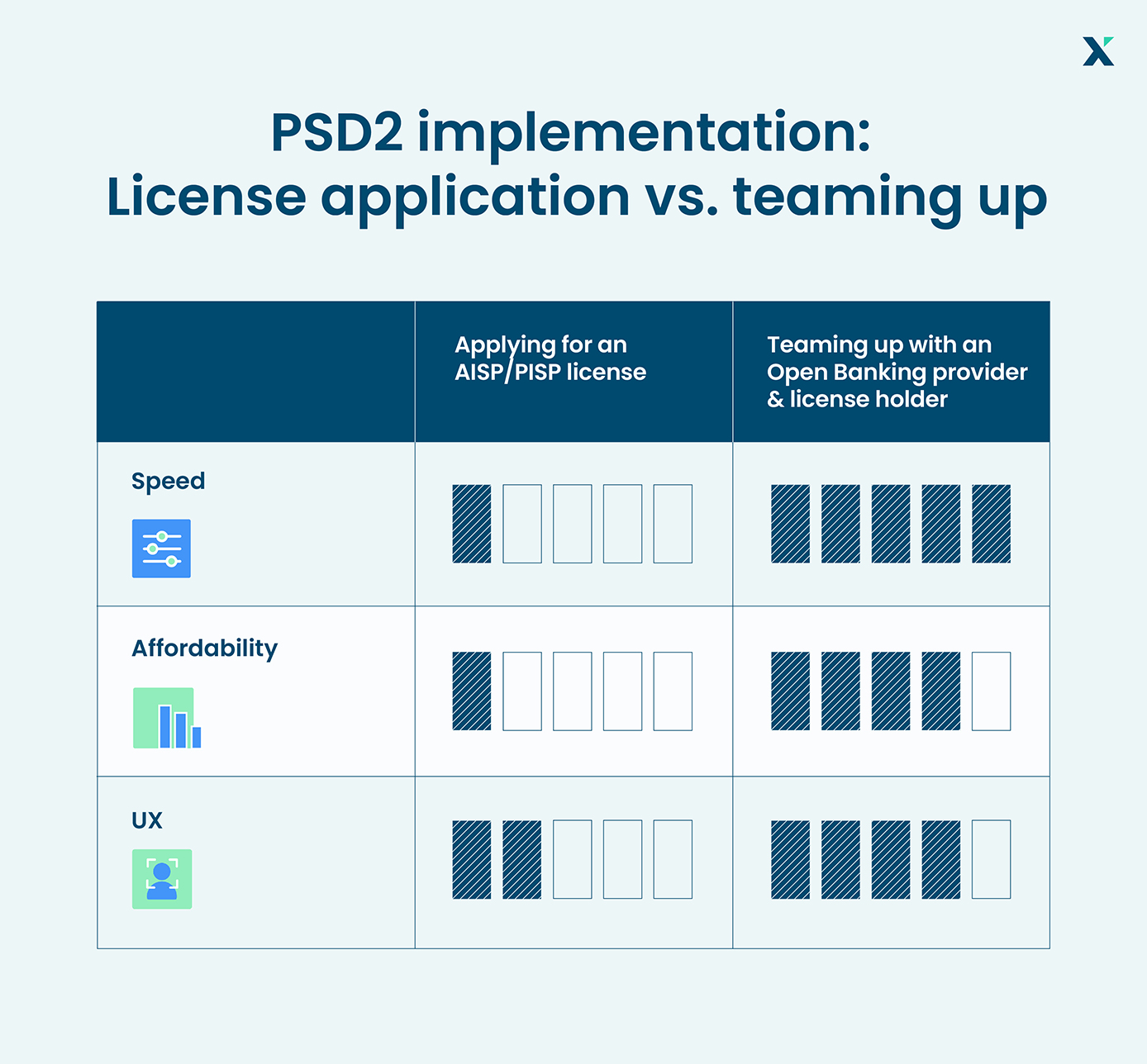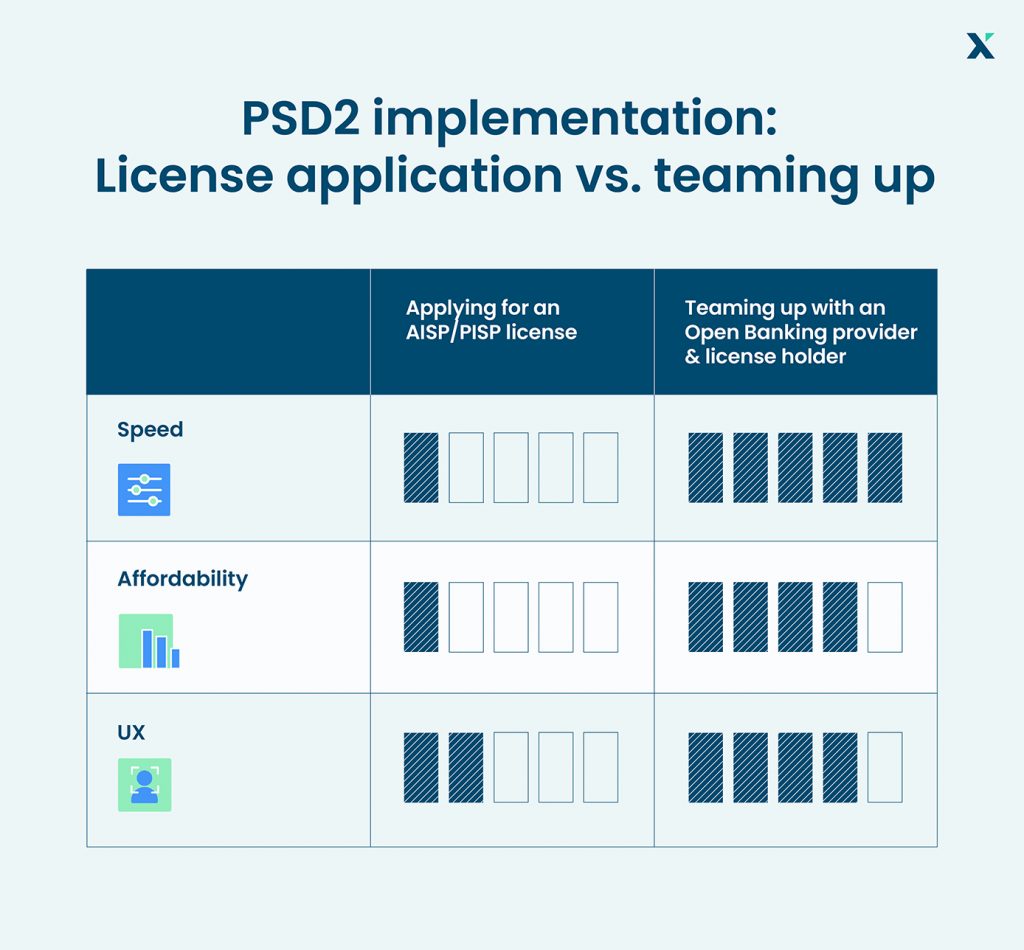 1. Apply for an AISP/ PISP license
To push payments or analyze customer data, you will need to apply for an AISP license. If you are based in Spain, you will need to be an Electronic Money Institution or a Payment Institution in order to offer PISP services. To receive this license, you will need to go through a regulatory process in order to meet the necessary requirements and security protocols.

That means you will need to have the right technology and tools in order to be SCA compliant and meet the conditions of PSD2. To build those tools, you would need to hire a group of developers that will build the right technological solutions.

The main benefit of this approach is that as a company, you will be completely independent and self-reliant since you will be fully in control of your tech stack. The main disadvantage is that it is a process that is very cost and time-intensive; it can take up to a year to get the right licenses.
2. Partner with a third party
The second option is to work with a technology expert that already holds all the necessary licenses. The partner develops the appropriate solutions and is already regulated as an AISP, PISP, and EMI — like we are at Unnax.

The main benefit is that the costs are much lower and stable over time. The regulatory burden falls on the partner, rather than the company. This means it's much faster to launch to market and there is a lot more guidance.
Should you partner up or not?
This depends on your individual requirements and needs. It is true that the deadline for PSD2 has already passed, and that therefore partnering with a third-party provider allows companies to benefit from the technology a lot more quickly than it would if they developed their own solutions.

If you have questions about the specifics of partnering up with a third party, contact us here and we'll be happy to answer all your queries.
Our role:
Your PSD2 Partner
Unnax is licensed Electronic Money Institution, regulated by the Bank of Spain and authorized to provide Account Information Services (AIS) and Payment Initiation Services (PIS), as well as e-money services.

From multinational banks to real estate companies, ERPs, and lenders, our technology has helped hundreds of businesses develop better products and services leveraging customer financial data and intelligent payment architectures.

The great thing about PSD2 is that it's a directive that is very new and offers many opportunities and use cases that are yet to be explored. From financial inclusion to fairer credit decisions and real-time payments, PSD2 is a regulation that is enabling real innovation that will help shape the fabric of the financial services of the future.
Hundreds of companies already benefit from our solutions.
We'd love to help you too.
Send us a message and our team will be in touch shortly.
Hundreds of companies already benefit from our solutions.

We'd love to help you too.
Send us a message and our team will be in touch shortly.