A secure and efficient cross-border payment system is critical for marketplaces, merchants, and all other businesses that deal with financial transactions.
However, traditional cross-border payments can be slow, expensive, and often lack transparency for both the payer and recipient.
Instant cross-border payments are the solution to these challenges, enabled and facilitated by fintech providers such as Unnax. With instant payments, everything from invoicing and payroll to customer payouts is made simpler, faster, and more transparent via the bypassing of traditional intermediaries.
In this article, we discuss the differences between traditional cross-border payments and instant payments, as well as the key challenges and how to overcome them.
Keep reading to learn about how Unnax leverages advanced technologies and automation to enable better payment solutions and SEPA instant payments.
---
Read straight through, or jump to the section you want to read:
---
Cross-border vs. instant payments: What's the difference?
Cross-border payments is a term used to describe any financial transaction in which the payer is in a different country to the recipient.
In decades past, cross-border payments tended to be a major headache for merchants, financial institutions, or any other business dealing with digital transactions. Nowadays, however, advancements in payment technology have allowed for much more efficiency.
For instance, the financial and technology sectors have recently seen a rise in both demand and use of cross-border instant payments. With instant payments, many of the middlemen (such as intermediary banks) can be eliminated from the transaction process, allowing for swifter and more cost-effective european payments.
Instant payments still aren't widely used, and when they are used, it's mostly for domestic transactions. Even for domestic transactions, instant payments are still a growing industry. According to IBERPAY's latest report, the average use of instant payments in Europe is only 11%. However, financial authorities — such as the Bank of International Settlements (BIS) — are putting in tremendous efforts to make instant cross-border payments a global reality.
Challenges of cross-border payments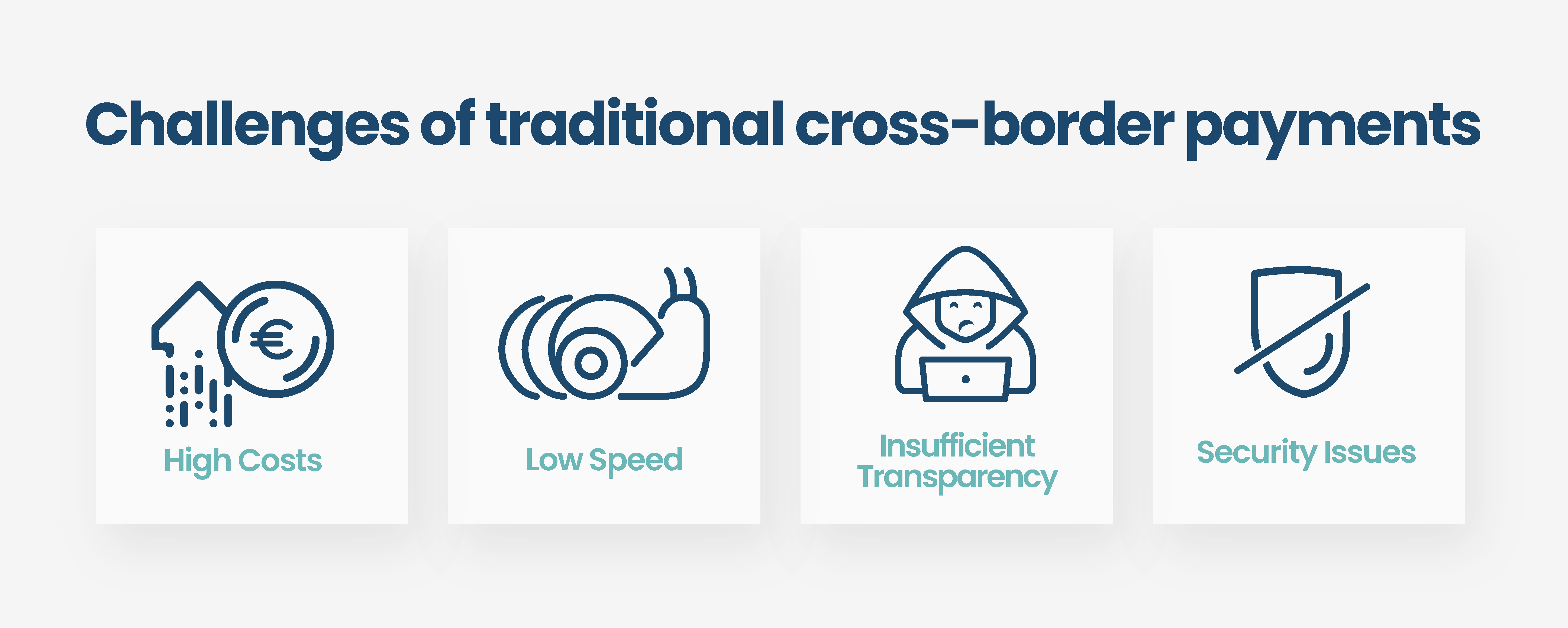 To understand the need for instant payments, we must first examine the key challenges associated with the standard cross-border payment model.
These challenges include:
High Costs:

Traditional cross-border payment systems involve several financial institutions, facilitators, and intermediaries to complete a transaction. With these institutions come a whole slew of fees — from service fees and currency conversions to additional costs to cover compliance expenses.
Low Speed:

As mentioned above, there are many participants involved in the traditional cross-border payment process. Not only does this result in high fees and costs to carry out a transaction, but it also has a drastically negative impact on the speed of transactions, for example, traditional bank transfers often take between 2 and 5 days to process. This is detrimental for many reasons, including major disruptions to operational efficiency and business activities. 
Insufficient Transparency:

With so many intermediaries involved in the traditional process — and a lack of standardized transaction tracking and monitoring regulation — it is easy for transparency to fall to the wayside. As a result, both the payer and the recipient often end up in the dark about where a payment is in the transaction process and how long it will take for it to arrive at its intended location. Plus, these intermediaries can lack transparency about fees, causing the payer and/or recipient to experience hefty unexpected expenses in some cases.
Security Issues: Each country or geographic region operates under unique security and compliance regulations. Though there is some overlap, this can lead to a lack of high-quality security infrastructures. In turn, cross-border payments can fall victim to fraudsters, when sent to high-risk regions with differing security and compliance standards.
How Unnax's instant payment solutions meet the challenge of cross-border payments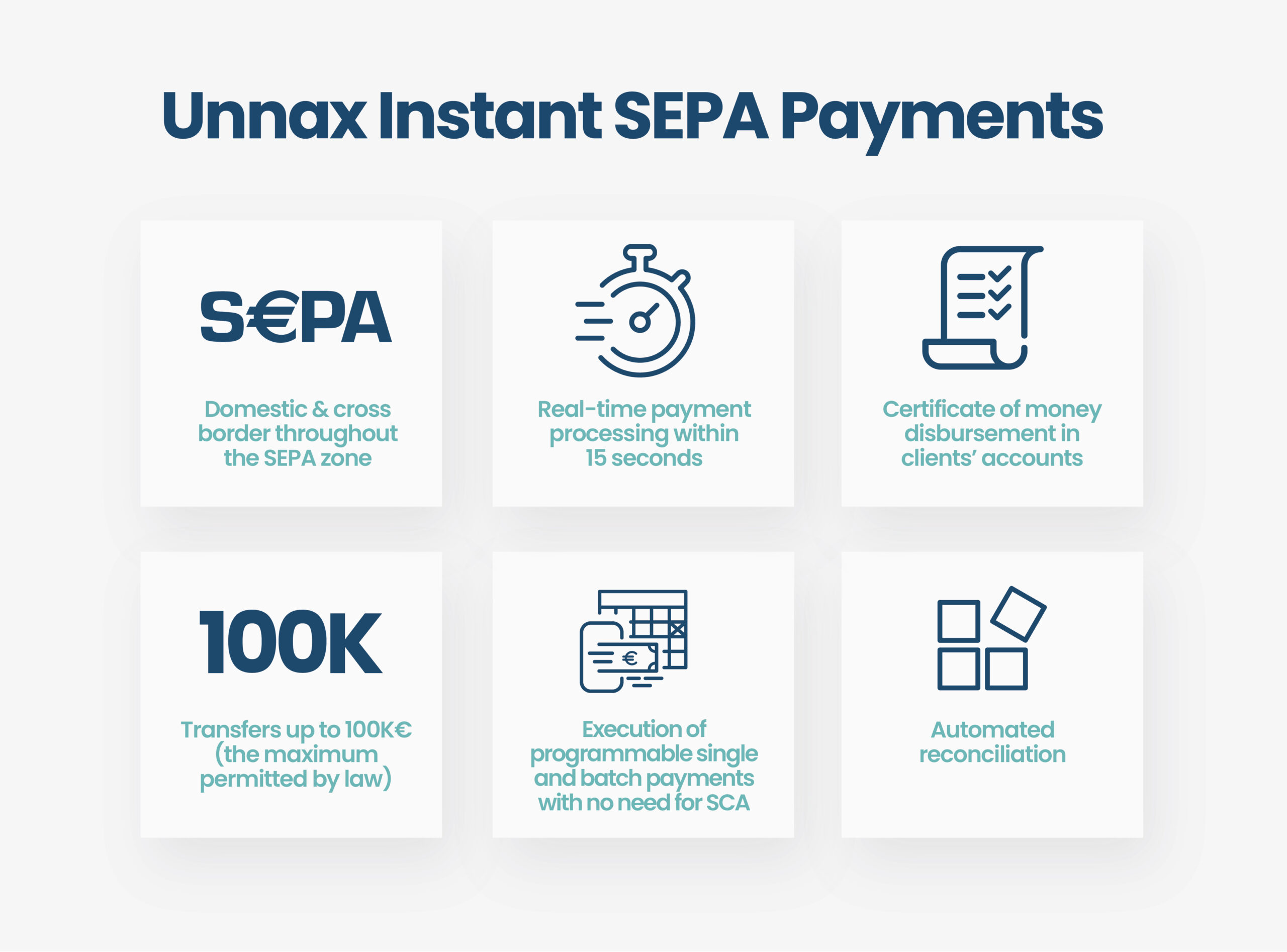 One of the best ways to overcome the challenges of cross-border payments is to work with a trusted Fintech provider that offers end-to-end payment solutions.
At Unnax, we leverage innovative financial technologies that adhere to the various AML, KYC, and other compliance standards found across the globe. We have the expertise necessary to enable fast, cost-effective, transparent payment services.
Our newest product is Instant Sepa Payments, which facilitates instant payments to the entire SEPA zone, including the U.K.
Features of this product include:
     

Domestic & cross-border payment throughout the SEPA zone

     

Real-time payment processing within 15 seconds

     

Certificate of money disbursement in clients' accounts

     

Transfers up to 100K€ (the maximum permitted by law)

     

Execution of programmable single and batch payments with no need for SCA

     

Automated reconciliation
How Unnax money movements work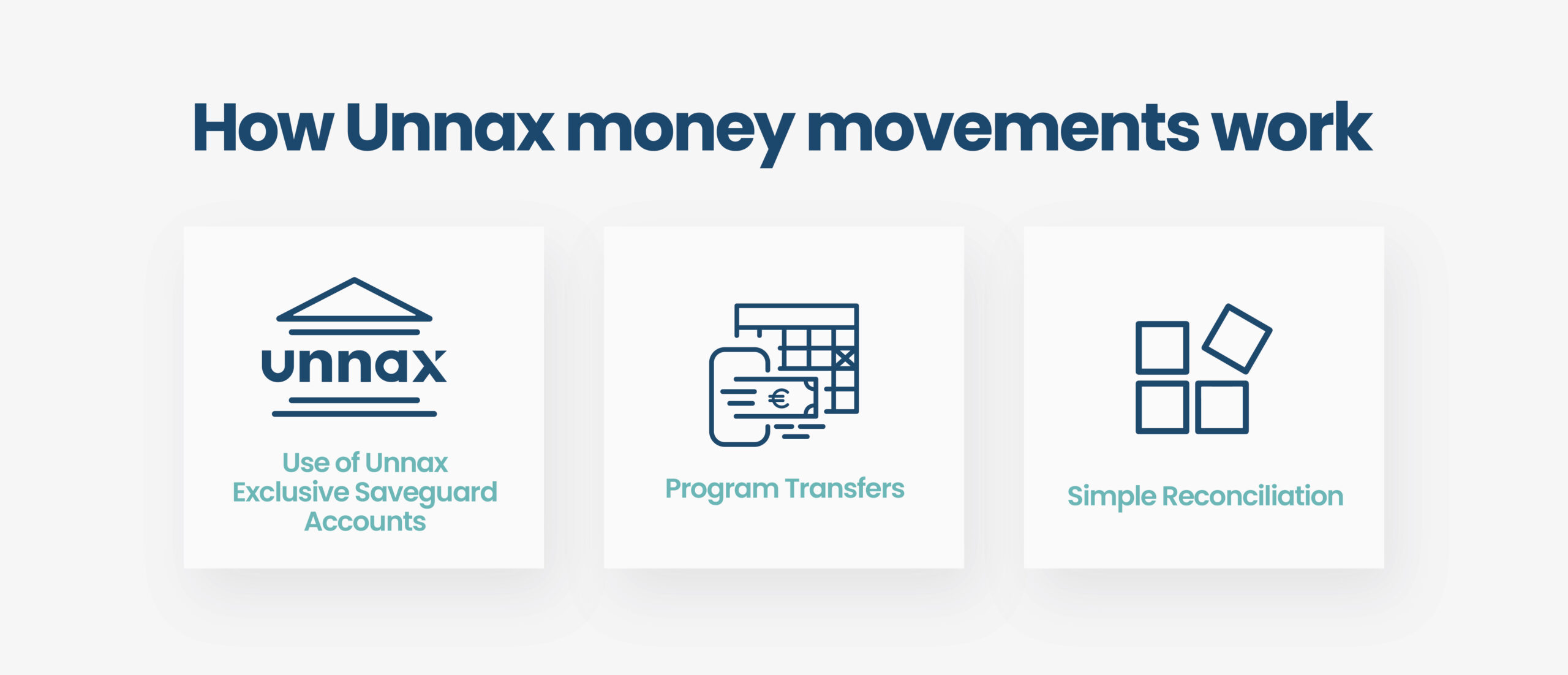 To enable more advantageous cross-border instant payments, Unnax utilizes fully-automated technologies that help our clients manage their money movement operations with ease.
Three key steps make up the Unnax money movement process:
Exclusively Safeguarded Accounts:

The accounts operated by Unnax make it possible to bypass manual SCA and payment signatures, allowing for faster transactions. This is achieved thanks to Unnax's existing connection to the clearing house, enabling all necessary actions to be delivered by powerful APIs.
Program Transfers:

When the merchant calls our API, we execute the transfers based on the specific conditions of account balances, operations, and other inputs of their choice. These conditions then execute automatically with any payment initiation.
Simple Reconciliation: For reconciliation, clients can choose between individual statement filtering, callbacks with unique movement codes, and exclusive IBANs, allowing each participant in the process to carry out reconciliation with greater simplicity.
The main use cases for Unnax's cross-border instant payment solution

Unnax's solution can be applied for many different purposes, allowing us to service a wide range of merchant clients with different needs.
The main uses cases for our solution include:
Lending Companies:

For companies operating in Spain that wish to expand globally, Unnax is the clear choice. Any company that needs to make payouts to the SEPA zone can benefit from Unnax's cross-border instant payments.
Buy-and-Sell Operations: Buy-and-sell operations — such as those made by a company trading cars or motorbikes — can utilize Unnax's services to process SEPA payments and move their goods to other countries.
Easy transfers for Payroll Advance:

For SEPA-based companies, Unnax facilitates instant payroll payouts for all employees located in the SEPA zone and the U.K.
Embedded Payments:

Embedded payments (ERP, TMS, dynamic payments, etc.) that make payment processes instant and direct in business processes are key. Unnax enables clients to provide their customers with a payment account that allows for instant online payments.
Neobanks and/or Crypto Banks: Many neobanks and crypto banks need to allow customers to take speedy cashouts. Unnax helps to enable faster payouts across europe.
Final thoughts
Having a strong cross-border payment strategy is essential for any business looking to expand globally.
Unnax's solutions offer greater speed, transparency, and cost-effectiveness to merchants and other clients. Our newest instant payment product facilitates timely payment transfers and money movements in the SEPA zone and the U.K.
To get started with Unnax, contact our team today.