Every year, more payment options seem to come onto the scene. Although companies are trying to adapt quickly, the checkout page is getting more crowded, and it's becoming harder to determine which payment methods are worth pursuing.
Amidst the growing number of payment options, four seem to stand out: account to account payments, digital wallets, Buy Now Pay Later and cross border transactions.
In this post, we'll be looking at those specific payment options, who these payment methods impact, what their benefits are and their various use cases.
👉 You may like: 4 payment methods transforming online business in 2021
2022 Payment method trends
Direct Bank Transfers (A2A)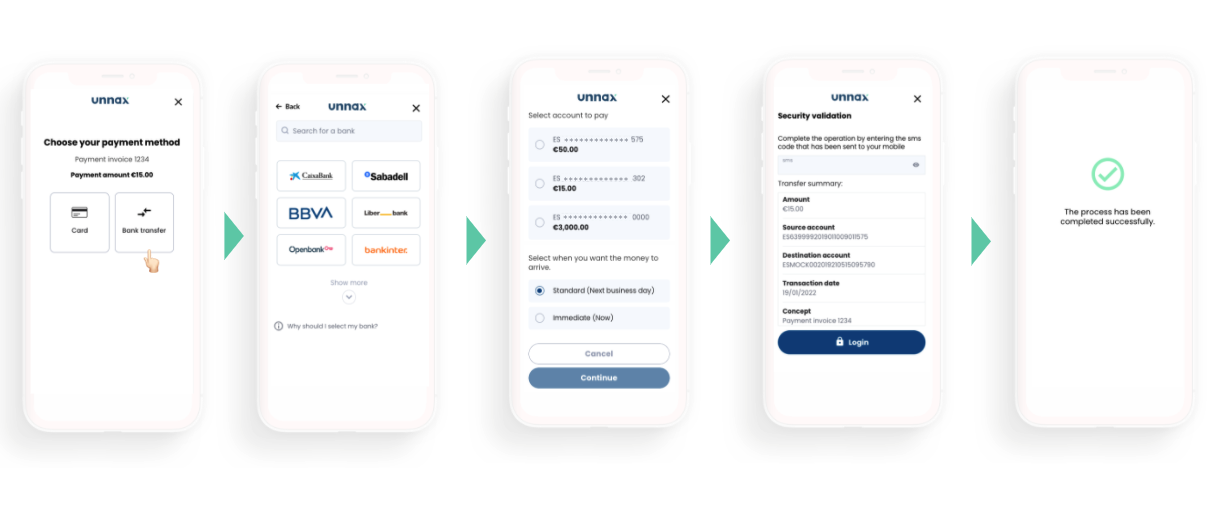 As Open Banking adoption increases, we'll be seeing more merchants accept account to account payments, and therefore more consumers using it as a payment option. Additionally, with online shopping continuing to grow, merchants will be leaning towards using payment methods that are more cost-effective and better optimised for mobile.
Who will this affect?
Anyone taking online payments. This includes e-commerce merchants, lenders, educational institutions, governments and more.
The benefits of using direct bank transfer payments
Unlike traditional transfers, account to account payments come with much more enriched data. Companies will therefore be able to access higher quality insights
Increased insights lead to increased personalisation. For example, lenders can send a payment request right after a customer receives their salary
Users don't have to complete as many steps in order to pay
The onboarding and payment process is easier to complete via mobile phone.
Open Banking enabled payments are 30% cheaper than card payments
Generally makes it an easier and better way for consumers to pay for goods online
Use cases
Merchants will be encouraging consumers to pay via A2A payments. Lenders will start using A2A payments for loan payouts and collections.
👉 Read more: With Open Banking, debt collection turns into an opportunity for lenders
Digital wallets

The pandemic has helped accelerate the use of mobile payments, specifically digital wallets (also known as e-wallets). In 2018, 18.9% of the population used digital wallets. In 2020, this increased to 46%. It's estimated that more than half of the world population will use mobile wallets by 2025.
E-wallets are a tool that allows users to store funds, make transactions with real or virtual funds in a digital environment. One of their main features is that they allow users to move money virtually between one wallet and another without the need to make real money movements.
Digital wallets enable online payments that bypass many of the traditional middlemen. With fewer intermediaries, merchants and lenders can offer more loyalty tools like points, discounts, rewards and more, as well as save on costs.
Who will this affect?
Merchants, especially those who rely on cash.
The benefits of using digital wallets
For consumers, e-wallets are a lot more convenient and easy to use
For merchants, digital wallets provide more security, don't require SMS authentication and, since there are fewer intermediaries, are a cheaper payment method to accept.
Use cases
Digital wallet adoption is so fast that merchants who don't offer it as a payment method risk falling behind. Online and offline merchants will accept e-wallet payment methods to offer customers a more seamless purchasing experience. Moreover, the digitalization of funds on ecommerce platforms goes a long way to increasing user retention.
Other use cases include the provision of virtual accounts for neobanks and challenger banks, facilitating P2P transactions in the sharing economy, and enabling custodial safekeeping of funds for money transfer companies.
BNPL

Buy Now Pay Later has seen an explosion throughout the pandemic and all of 2021. It's now a $100 billion dollar industry, with adoption expecting to grow by 43.2% in Spain.
The increased usage of BNPL was mostly caused by the pandemic, which forced shoppers to deal with unstable incomes and look for ways to shop that would help spread the cost. BNPL offers consumers a convenient and easier way to pay for items online, without having to worry about hidden fees or high APRs.
Who will this affect?
Merchants, especially those that sell high value items.
The benefits of using BNPL
For consumers, it provides a much more convenient way to pay for items online
For merchants, it helps increase sales conversion rates, as well as open up the target market to consumers with smaller budgets
Use cases
BNPL is changing the online shopping experience continuously. We're already seeing signs of consumers only choosing to buy from merchants that offer a BNPL option, as well as consumers from all ages beginning to use the service.
In the merchant space, BNPL will become a de facto payment option at checkout, and like digital wallets, merchants that don't offer BNPL risk falling behind.
Cross border transactions

Cross borders are traditionally slow and expensive for consumers and businesses. But as the world becomes increasingly global, the need for efficient cross border payments is pressing. We might see a renewed interest in CBDCs or other cryptocurrencies as a possible method of bypassing expensive cross border payment methods.
Who does this affect?
Global merchants and financial companies.
The benefits of improved cross border payments
As cross border payments becoming more accessible and opens up new countries and regions, merchants will be able to increase their total addressable market
Consumers will also be more open to purchasing items from other countries
Use cases
Cross border payments will help enable merchants that want to go global and expand their reach. They could also help businesses that want to expand to other regions with different currencies.
The world is becoming more globalised, customer centric and mobile. Open Banking and direct bank transfers are very much part of this trend, helping drive payments that are more intuitive, cheaper and easy to use. We predict 2022 will be a great year for Open Banking and payments overall, as the world continues to open up and go digital.