Article now available in spanish.
The crypto user base grows larger and larger every day. A report released by Statista found that the global user base of cryptocurrencies increased by nearly 190% between 2018 and 2020, accelerating further in 2021. In fact, despite the recent bear market, the future still looks very bright. Blockware reported that global bitcoin adoption will reach 10% by 2030. 
However, more users mean more platforms. Platforms pop up on an almost daily basis, especially during major cryptocurrency rallies, with each targeting their own section of the crypto market. However, while in the midst of a crypto winter, it's vital that crypto platforms today provide the maximum security and fund protection guarantees to their users.
In this blog post, we'll explain why crypto platforms should use fiat wallets and discuss the benefits of doing so.
---
Read straight through, or jump to the section you want to read:
---
What is a crypto wallet?
Before we can explain the benefits of using fiat wallets, it's important to fully understand what a crypto wallet is: It's a digital wallet that stores users' private keys (similar to a PIN number or password) and public keys (similar to a bank account) and receive digital currency and monitor their balance.
Crypto wallets come in hardware (also known as a cold wallet) or software (hot wallet) form, in which users can store various types of cryptocurrencies. Some wallets can only hold one type of crypto, while others can store multiple.
What is a fiat currency wallet?
On the other hand, fiat wallets are wallets that store fiat currency. Fiat currency is a government-issued currency like the US dollar, the Euro, or the Japanese Yen. In the digital sense, fiat wallets are accounts that allow users to store, send, and receive government-issued money.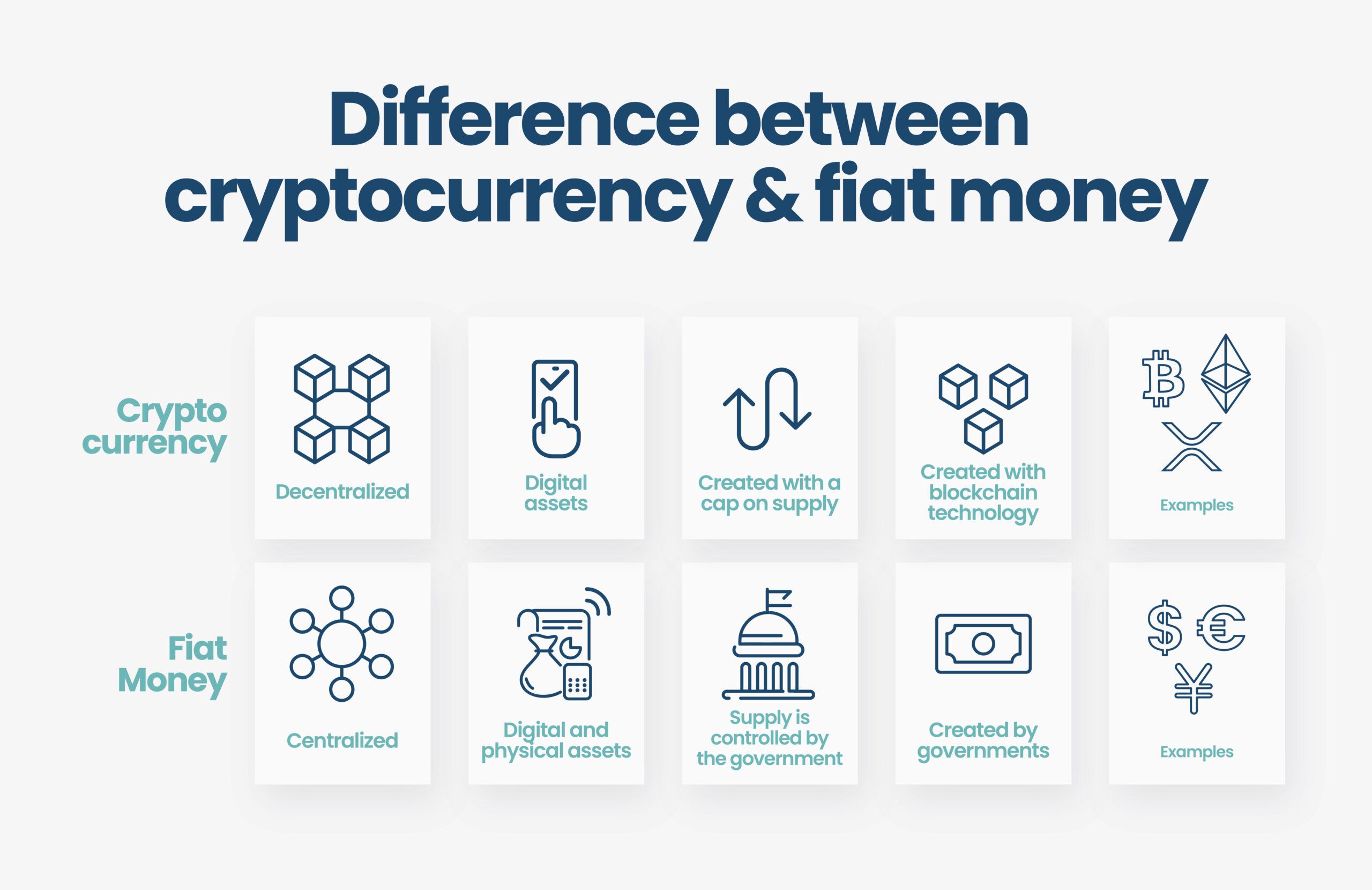 Why do crypto companies need a fiat wallet?
Security
The first and most important reason is security and trust. Currently, only a few crypto platforms that enable funding and withdrawal of fiat currency are safeguarding these fiat funds. 
What's worse, even when they do, these platforms often don't provide personal wallets, so every investor's money ends up centralized in a single treasury account, owned by the crypto platform. This not only makes fiat funds more susceptible to hacks, but it also leads to potential investors feeling uneasy about using your platform due to fear of potential rug-pulls –– even if you have no intention of doing that.
By providing individual fiat wallets to their users, crypto platforms ensure that investors' fiat funds are held by a regulated entity, which means that the funds are guaranteed. Additionally, since cash outs from personal fiat wallets require a user's approval via Strong Customer Authentication (SCA), their funds have an extra layer of security against hackers, which have been successfully targeting crypto companies in recent years. Ultimately, individual fiat wallets help crypto platforms increase the security of users' funds and build trust, leading to improved conversion rates and loyalty.
Regulation
Another reason why fiat wallets are essential to crypto platforms is regulation. By law, crypto platforms must identify the source of all funds, and track the financial flows made through their platforms. Wallets can be used to guarantee full transparency of the funds and transactions carried out by any users, as well as any of the resulting profits, ensuring crypto platforms stay compliant. 
User experience 
Fiat wallets also offer a better crypto user experience. It can be extremely time-consuming and painful to withdraw funds as a user. In many cases, these lengthy and costly processes are the biggest pain point from the user-experience perspective.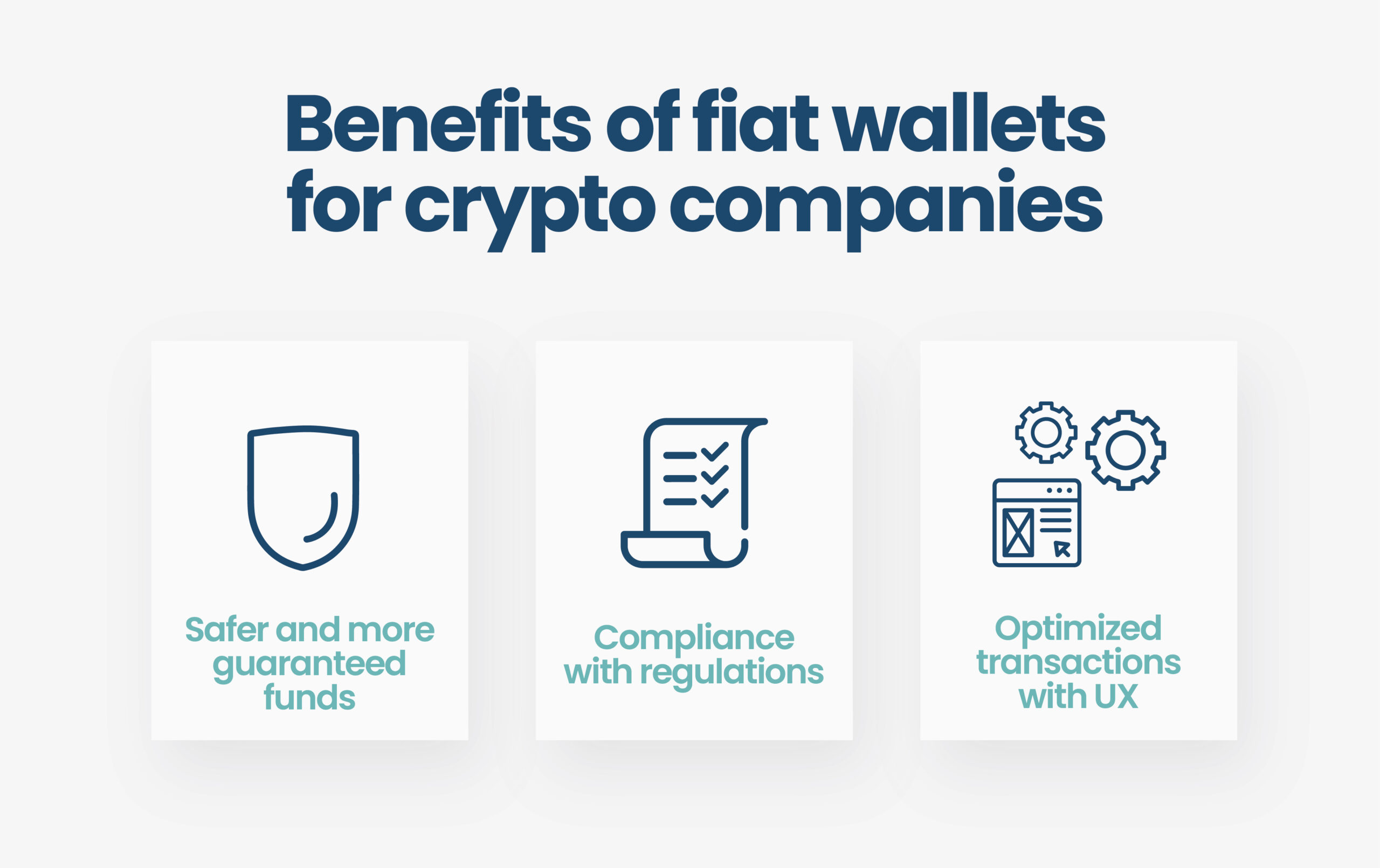 How to use a fiat wallet in the crypto ecosystem
You might be wondering how a fiat wallet fits into the crypto ecosystem. Let's take a crypto platform as an example and look at the process of selling crypto for euros from a user perspective.
The crypto platform offers the investor the option to have a fiat wallet. This allows them to transfer euro funds from their bank account to an individualized and secure fiat wallet, which can be then used to quickly and easily buy crypto on the platform. Of course, users can still choose to acquire crypto via direct payments from their existing bank account or via credit card payment if they prefer.
However, it's during the crypto-selling process that digital fiat wallets make a big difference for users. Here, when an investor sells crypto, the corresponding euro amount resulting from the transaction is now stored directly in their fiat wallet. They can then easily either buy new crypto or withdraw the euro funds to other fiat accounts they own. That's a much more agile process than the one users currently experience on crypto platforms that don't leverage fiat wallets, where cashouts often take several days to complete. 
And that's not even mentioning the security benefits of fiat wallets. Since these are actually owned by the user, the euro funds stored there are safeguarded and they have full control over them. If for whatever reason, things go wrong with the crypto platform, the user's fiat money in the wallet is safe and secure. This builds more trust between crypto platforms and investors –– a stark contrast to many platforms operating without fiat wallets. There, even if investors see a euro amount displayed on the platform, it isn't necessarily in their custody. So while the crypto platform may not have bad intentions, this will make a lot of investors uneasy and likely to avoid their business.
Why an EMI like Unnax is the perfect partner
There are several benefits that crypto companies can enjoy by partnering with an EMI like Unnax.
First, Unnax offers a fully compliant fiat wallet solution that allows you to safeguard and guarantee fiat funds securely. As an Electronic Money Institution (EMI), Unnax is regulated by the Spanish Central Bank. Thanks to this, we help crypto platforms reduce the impact of the MiCA regulation and ensure a more secure service is offered, providing greater protection and legal certainty to your clients. 
Moreover, your platform's liquidity will increase. Traditional banking systems can take days or even weeks to process transfers. With Unnax, you can process those same payments in a matter of hours. This dramatically improves the user experience as users can withdraw funds with more ease and at a reduced cost. 
We also incorporate an additional layer of control by mitigating the risk of fraud, ensuring you stay compliant with Anti-Money Laundering (AML) and Combating the Financing of Terrorism (CFT) laws. 
Lastly, you'll have access to our extensive network of digital transformation services. We can help you optimize your business and drive growth, improving areas ranging from payments to customer onboarding.
Speak to us today 
If you're interested in providing a fiat wallet on your crypto platform, we'd love to speak to you. Contact us to get started.