Esmiluz Energía is an electricity retailer based in Barcelona, Spain that offers commercialized electricity from 100% renewable photovoltaics — a type of device used for converting thermal energy into electricity. Born out of the photovoltaic engineering company Sivortex, which is dedicated to the promotion, design, and construction of photovoltaic installations, Esmiluz Energía handles the energy management and marketing of the converted electrical energy.
The challenge of banking support for Esmiluz Energía
Esmiluz Energía services both residential and industrial customers by managing 100% of the energy they produce.
The ultimate goal is to empower customers to be as self-sufficient as possible by accumulating and storing their own excess energy in a virtual battery, which can be accessed and recovered as needed. To further cultivate this focus on self-sufficiency, Esmiluz Energía assigns no economic value to the energy stored.
Where Esmiluz Energía ran into trouble was finding the banking support necessary to properly serve its growing pool of customers.
"The problem we had was that we were a fairly young company, and we didn't have enough support from the banking system to be able to collect invoices from all our customers. So we had to go to four, five, or even six banks to be able to process all the direct debit remittances. Apart from the inconvenient procedure, this situation was problematic because it prevented us from expanding." —  Genís Martínez, Financial Director of Esmiluz Energía
As banks traditionally regard direct debits as a risk due to the high possibility of chargebacks, they often limit the volume of direct debits processed monthly and request additional financial guarantees from clients. Because of this, Esmiluz Energía had no choice but to work with multiple banks, which made gaining more customers and buying customer portfolios to boost profits a true challenge.
👉 Take a look at our customer's testimonial and get their first-hand opinions
Finding the necessary collections support with Unnax direct debits
To break out from the direct debit limitations imposed by traditional banks, Esmiluz Energía sought a solution that would allow the company to foster growth whilst handling increasing business volumes more efficiently.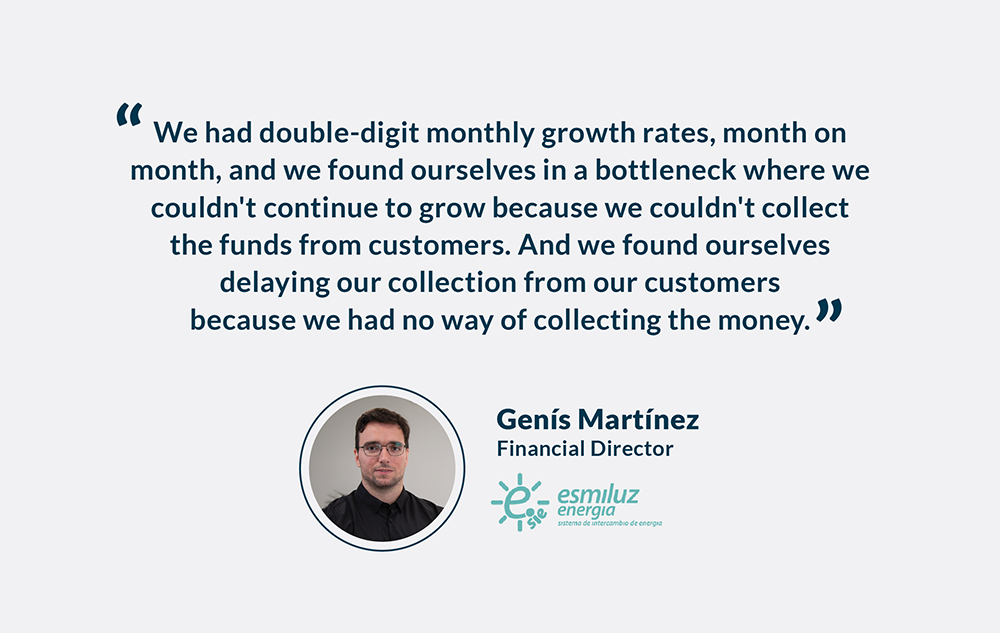 "We had double-digit monthly growth rates, month on month, and we found ourselves in a bottleneck where we couldn't continue to grow because we couldn't collect the funds from customers. And we found ourselves delaying our collection from our customers because we had no way of collecting the money." —  Genís Martínez, Financial Director of Esmiluz Energía
To overcome its growth challenges, Esmiluz Energía connected with Unnax to discuss the advantages of a direct API integration for direct debits. With Unnax's direct debit solution requiring only standard guarantees with no volume limitations, Esmiluz Energía could finally remove the brakes on its growth.
Additionally, integrating Unnax's direct debit solution into Esmiluz Energía's accounting system eliminated the manual hurdles of managing monthly remittances.
👉 Read More: A guide to optimizing your collections with fully automated SEPA direct debits
Unnax aided Esmiluz Energía in managing over €150K remittances
The primary problem Esmiluz Energía aimed to solve through its partnership with Unnax was increasing the volume of direct debits the company could handle within a month.
Esmiluz Energía also did not possess a large portfolio to use as a jumping-off point.
Despite the challenges of increasing direct debit volume while also adding to the company's existing portfolio, Unnax proved to be the ideal choice for achieving a scalable and effective solution.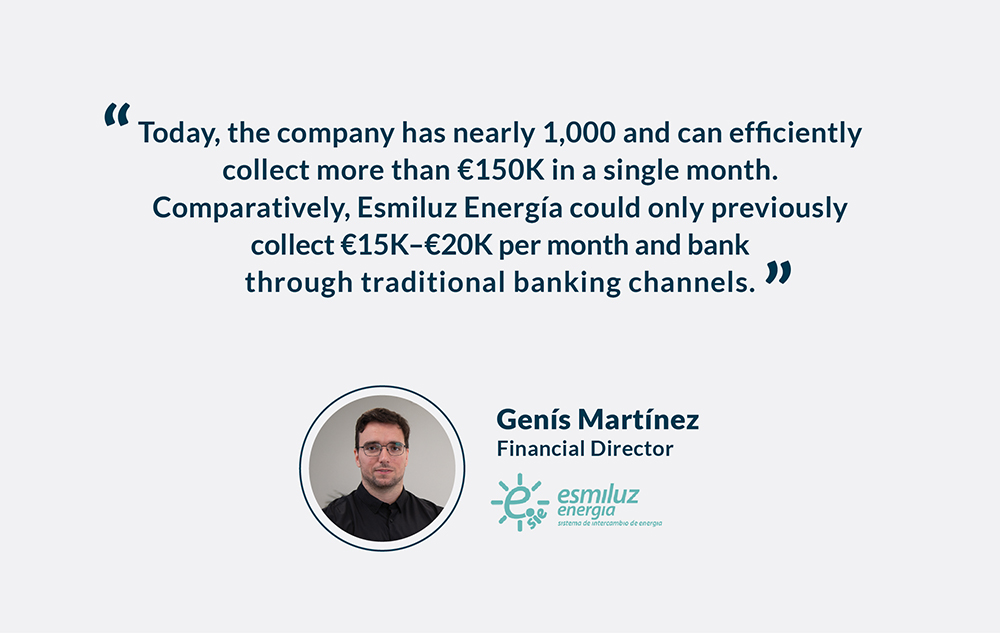 When the partnership began, Esmiluz Energía had around 800 customers. Today, the company has nearly 1,000 and can efficiently collect more than €150K in a single month. Comparatively, Esmiluz Energía could only previously collect €15K–€20K per month and bank through traditional banking channels.
Better yet, Unnax was able to achieve this increase in direct debit volume for Esmiluz Energía with incredible speed and efficiency.
"I would recommend the Unnax direct debit solution to other companies because the integration team has been very good, very agile, very fast, and they have resolved all doubts instantly without any problems. It took less than a month, around three weeks, to get everything up and running and there were no problems or failures." —  Genís Martínez, Financial Director of Esmiluz Energía
Boost your company's collection capabilities with Unnax today. Speak to our team to learn more about our platform and get started.