The Single Euro Payments Area (SEPA) is an initiative that enables anyone in the European Union to make cashless euro payments to both EU and non-EU countries via either credit transfer or direct debit. The SEPA area includes 36 countries.
Since the dawn of SEPA, SEPA Direct Debits have risen as a widely popular payment method across the European Union.
If you are wondering exactly what SEPA Direct Debit is, how it works, and how your business can leverage it — then you've come to the right place.
Join us in our discussion of this topic and how Unnax helps reduce the burden of manual and bureaucratic processes by offering full automation of this popular payment method.
Read straight through, or jump to the section you want to read:
What is SEPA Direct Debit?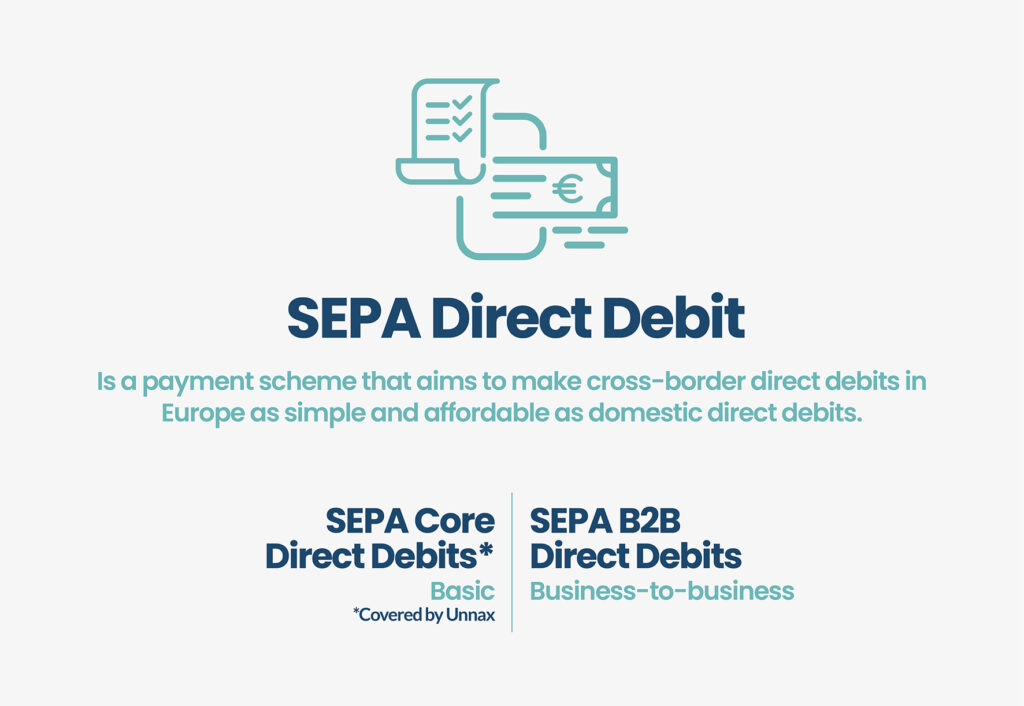 SEPA Direct Debit (SDD) is a payment scheme that aims to make cross-border direct debits in Europe as simple and affordable as domestic direct debits.
In simple terms, SDD creates a single market for both one-time and recurring euro payments.
There are two distinct types of SDD schemes to know about:
SDD Core is mandatory for any SEPA bank that offers Euro Direct Debits. In an SDD Core payment, creditors must receive authorization from debtors before they can debit their accounts. This authorization is a mandate identified by a unique mandate reference (UMR) and the creditor must be identified by a creditor identifier assigned by the creditor's national bank. With Unnax, this type of SDD is fully covered, ensuring seamless financial operations.
SDD B2B are direct debit payments made between companies, as well as to the relevant tax authorities. An SDD B2B payment scheme is only available to business entities sending or receiving payments to other businesses or tax authorities. In this direct debit scheme, the mandate that both parties agree to must first be registered with the debtor's payment service provider before the payment can be processed and authorized. Unlike SDD Core, SDD B2B is not a mandatory scheme.
Let's look at the key features and components of SDD:
Merchant-initiated payments: After receiving the necessary information and permissions from a customer, SEPA Direct Debit payments can be initiated by the merchant themselves. This is incredibly useful in many scenarios, especially those that involve recurring fixed or variable payments.
Bank-to-bank transactions: Unlike other payment methods, SDD does not involve any card networks or schemes in the payment process. All SDD transactions are carried out directly between the payer's and merchant's banks.
SEPA coverage & currency: SDD payments cover the entire SEPA region, which consists of the 27 EU member states plus 9 non-EU countries (Andorra, Iceland, Liechtenstein, Monaco, Norway, San Marino, Switzerland, UK, and Vatican city). All SDD payments are made in euros, leaving any currency exchange requirements up to the respective banks of the payer and merchant.
Chargebacks: A primary goal of SEPA is to provide greater payment protection to customers in the region. As part of this aim, SDD Core payments can be subject to chargebacks for up to 13 months after a transaction has occurred, if there is no mandate. However, SDD B2B payments can only be refunded if there was not a valid mandate.
Payment transfer times: Though not yet instant, SDD payments can be processed with incredible speed — roughly one to two business days, to be exact.
3 Key use cases for SEPA Direct Debit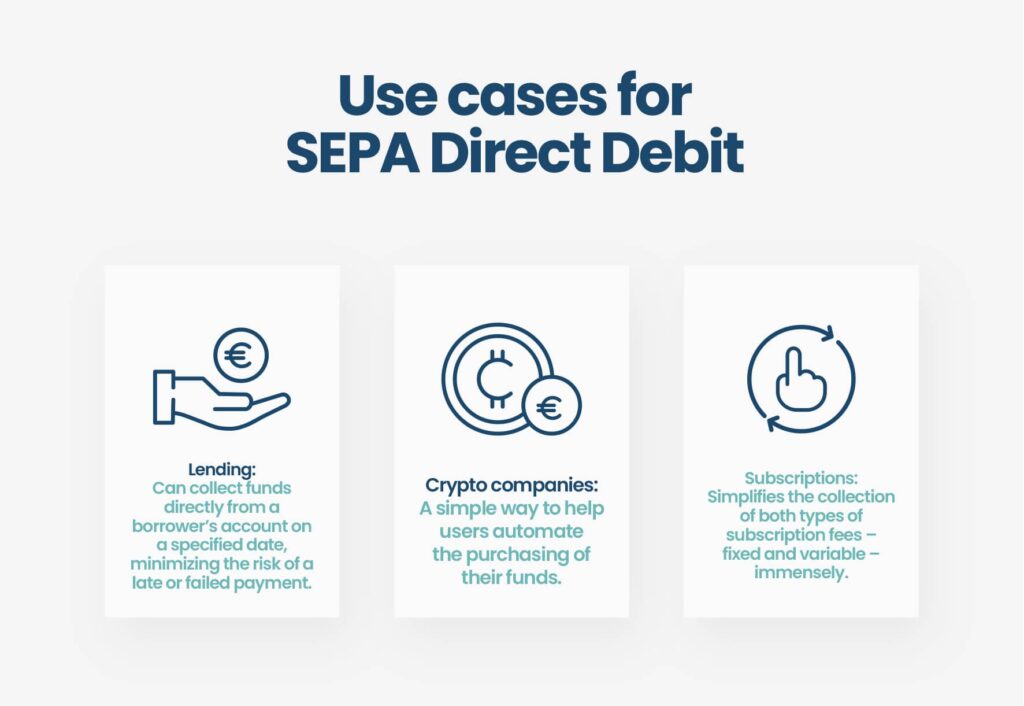 The SDD payment method can be highly advantageous for businesses of all kinds but especially those dealing with recurring payments. Since SDD payments can be programmed to be both fixed and variable, this makes them ideal for a variety of different business scenarios.
Here are three particularly great use cases to consider for SEPA Direct Debit payments:
Lenders need an efficient and affordable way to receive monthly loan payments from borrowers without sacrificing part of that revenue to transaction fees. With SDD, lenders and creditors can collect funds directly from a borrower's account on a specified date, minimizing the risk of a late or failed payment.
Cryptocurrency is becoming a more popular payment method and asset across Europe, and the recently approved MiCa legislation by the EU will no doubt further boost crypto adoption in the region. As a result, many crypto exchanges and companies need a simple way to help users automate the purchasing of their funds. SEPA Direct Debits are a great way for crypto exchanges to help users set up direct debit plans to regularly and automatically transfer euros to their fiat wallets linked to the platform, so that this fiat money is then ready to be used whenever they want to buy crypto.
Subscription services charge user accounts in exchange for specific services, generally on a monthly or annual basis. Some subscriptions bill fixed amounts, such as streaming services like Netflix, while others charge variable amounts based on usage. An example of the latter is utility companies, which collect a fixed flat fee as well as a variable amount based on your actual energy consumption. SDD simplifies the collection of both types of subscription fees –– fixed and variable –– immensely.
How to enable fully automated SEPA Direct Debits with Unnax
At Unnax, we operate as an EMI-licensed Fintech provider within the SEPA region to provide you with the most convenient, efficient, and cost-effective financial services possible.
As part of our commitment to servicing the SEPA region, Unnax offers a fully automated solution for SEPA Core Direct Debits. This solution works via our API, which follows a simple four-step process: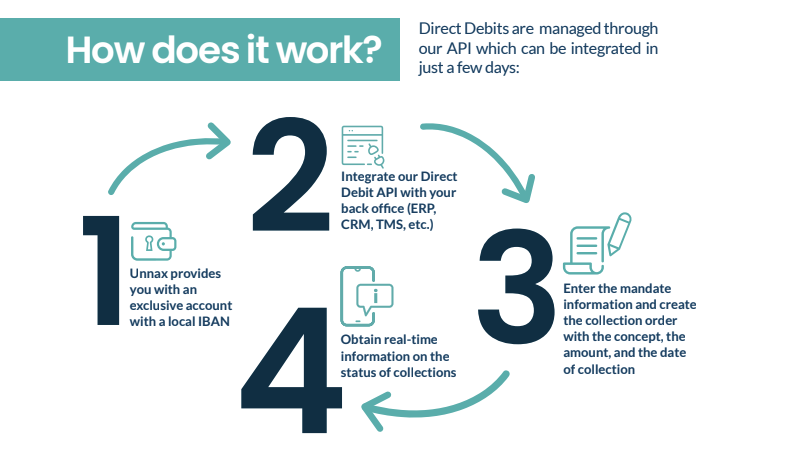 Unnax provides you with an exclusive IBAN account
After your Unnax-exclusive account is created, you can easily integrate our Direct Debit API with whichever back-office solution you leverage (ERP, CRM, TMS, etc.)
With our API integrated, all you need to do is enter the mandate information and collection order with the concept, amount, and date of the collection
Once you complete the mandate, you can take a more hands-off approach, as we provide you with real-time collection information
Compared to direct debit solutions from traditional banks, Unnax's SEPA Direct Debit solution offers many key benefits.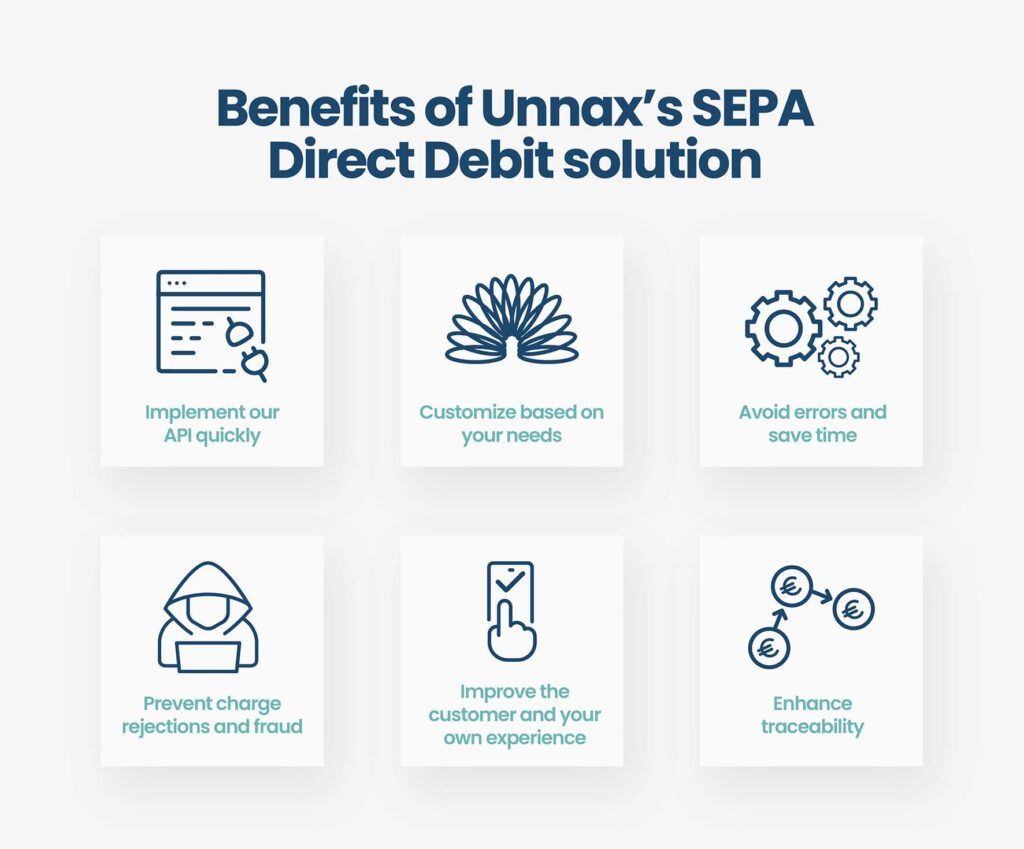 Specifically, our capability to fully automate and digitize your direct debit payments sets Unnax apart from other payment service providers as a true enabler for efficient and affordable SEPA Direct Debits. The Unnax API makes your direct debit payments simpler by eliminating the need for manual and bureaucratic processes, as well as streamlining your payment collection process.
Additional benefits of Unnax's SEPA Direct Debit solution include:
Fast API implementation: Get started quickly, as our API can be integrated in just a few days.
Customization and flexibility: Customize your automated collections according to your specific needs, whether that's fixed subscriptions, variable utility payments, or anything in between. Integrate with your specific back-office solutions and accounting tools.
Avoid errors and save time with full automation: The only responsibility you hold is initiating the collection by receiving a customer's mandate signature. After that, everything is fully automated, from payment collection to reconciliation and reporting. This means you spend less time on manual tasks and avoid human errors.
Prevent card rejections and fraud: Eliminate the risk of rejected payments due to cardholder challenges (loss, theft, cancellation, expiration, etc.) as the amount of each collection is charged directly to the payer's account. Plus, you reduce fraud since no human interaction is needed after the SDD set-up, which lowers the threat of data breaches.
Improved experience for you and your clients: With Unnax powering your SEPA Direct Debits, you can both reduce your administrative burden by collecting payments in a single bank account and spend less time chasing down customers by providing them with one of the most popular payment methods in Europe to your customers.
Enhanced traceability: With Unnax's real-time notification system, you always stay up to date on the status of your payments.
Gain the Unnax advantage for securely automated SEPA Direct Debits
SEPA Direct Debits offer many significant advantages to your business — yet, SDD still comes with its own unique challenges for implementation.
Unnax simplifies the SDD payments for your business by fully automating the process after receiving a signed mandate. We not only provide you with an exclusive IBAN account but also offer expert technical support to assist you with the integration of our APIs.
If you are ready to gain the Unnax advantage, get in touch with our team today.