As the landscape of our global economy changes at high speed, so too must the infrastructure that supports it. In recent years, we have seen a shift from traditional brick-and-mortar businesses to digital platforms.
Unnax is at the forefront of this change, providing digital wallets that allow organizations to build a complete financial infrastructure for any business model. Our technology delivers an end-to-end solution designed to develop all kinds of transactional functionalities.
So, what are digital wallets and how do they benefit business owners? Let's take a closer look.
What is a digital wallet?
A digital wallet allows users to store, access, and manage their financial assets. Unlike traditional physical wallets, which are used to carry cash and credit cards, digital wallets allow you to make online transactions and safeguard e-money.
Use cases for digital wallets
So, what can you do with a digital wallet? The sky's the limit, but here are some of the most popular use cases:
Online marketplaces
One popular use case for digital wallets is online marketplaces. Platforms like Amazon and Aliexpress have long used electronic payments to facilitate transactions.
With our digital wallet solution, marketplaces are able to offer their users a better way to input finances and cash out whenever they're ready, ultimately, helping them improve their user experience.
Let's take a look at a buying and selling clothes app: this app could use our digital wallet to allow its users to have a "wallet" within the platform to make their purchases or make a sale in a faster, simple and secure way.
By incorporating a digital wallet within this environment, the seller will receive the money only when the customer has received the goods. This solution adds an extra layer of security to your transactions and prevents fraud on the platform.
Crypto Platforms
In recent years, the explosive growth of cryptocurrency has led to a new use case for digital wallets: they open the way to offer new financial services in addition to buying/selling cryptoassets.
Incorporating fiat digital wallets (fiat money) within your ecosystem creates a better experience for your users. Through their fiat wallets, they will be able to transfer euros to and from their accounts without leaving the crypto platform. This way they will be able to fund their accounts to make crypto-investments quickly.
Since we safeguard fiat money funds, Unnax wallets greatly enhance the security and protection of crypto company users' funds.
👉 Read more: How will Banking-as-a-Service impact Crypto Platforms in 2022?
Crowdfunding
You've probably heard of websites like Kickstarter and Indiegogo, which allow people to donate money to support a cause or fund a project. Digital wallets facilitate these transactions and act as a money safeguard account until the campaign ends. This ensures that the money donated is stored in a secure digital environment.
Collection and debt management
Digital wallets are also perfect for reconciliation, management and loan collection. A platform like Unnax enables businesses to automatically reconcile all their revenues, and assign an account to each customer or supplier.
This is a valuable tool for businesses of all sizes, as it allows them to manage their finances more effectively and reduce the risk of late or missed payments.
Neobanks
Neobanking has grown in recent years because it focuses on a specific target through financial services tailored to a particular group.
Neobanks is a term used to describe financial institutions that offer digital banking services. This trend has been growing in recent years, giving rise to fintech startups like Revolut, N26 and the like.
Let's take Revolut as an example. This London-based fintech firm offers users a mobile app to open a bank account, hold and exchange multiple currencies, and even invest in stocks and cryptocurrency. Since this is all achieved virtually, it's the perfect use case for a hybrid IBAN-digital wallet product.
How to build a digital wallet
Only Electronic Money Institutions (EMIs) can offer the necessary infrastructure to implement digital wallets. If you aren't an EMI, you'll need to get your license through a complex and lengthy process – or, simply partner with an existing EMI like Unnax to use their wallet.
👉 Read more: Everything you need to know about Electronic Money Institutions
Wallets are a great choice for companies who want to offer their users tailored financial services, fund safeguarding, the ability to move money effortlessly, and an improved payment experience.
Benefits for companies
There are several benefits to incorporating a digital wallet into your business.
New revenue streams
For starters, you'll be able to open new revenue streams by offering your customers innovative state-of-the-art financial products at minimal cost. Upselling with digital wallets will not only increase your bottom line but also improve customer retention.
Scalability
With a flexible, scalable platform and a quicker time to launch, you'll find it easy to boost revenue and increase profit margins.
Faster and smooth-less integration
Digital wallets are also much more efficient than traditional banking infrastructure. You can easily integrate them into your existing website or app. Furthermore, if you partner with an EMI to build your digital wallet, you'll save time and money, as you won't need to develop a separate system for handling payments. An EMI partnership would also cover a range of legal requirements, including PSD2 and SCA compliance.
Finally, digital wallets offer a high degree of security and fraud protection.
Benefits for users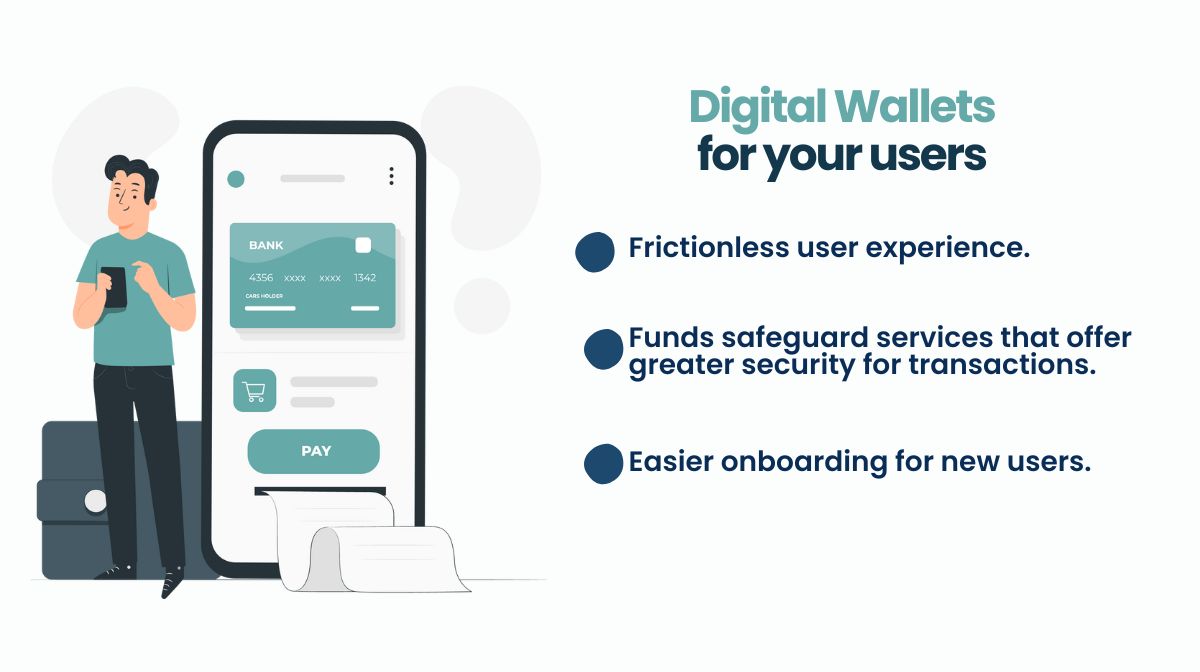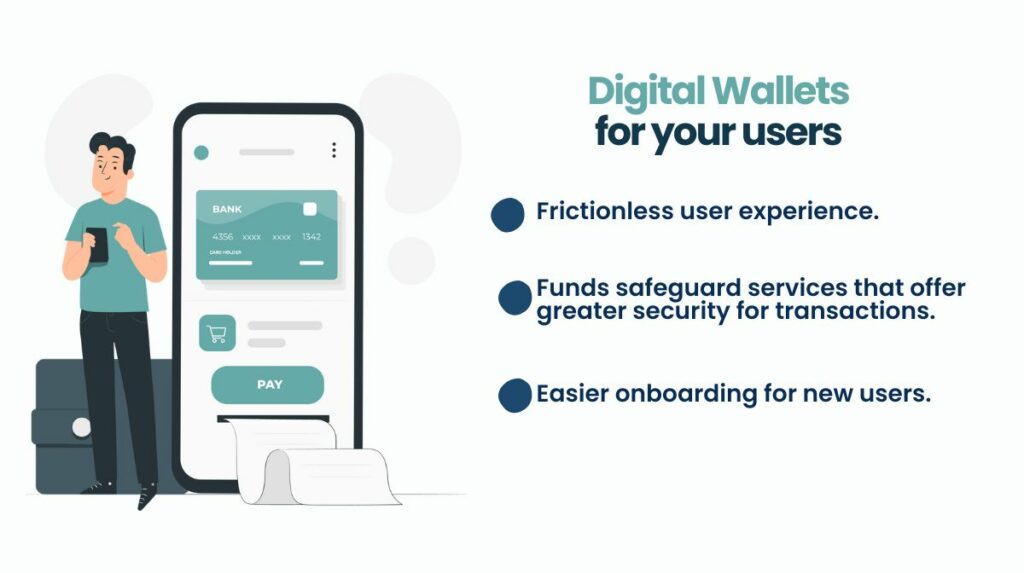 As for the customer, a digital wallet also offers significant benefits. Onboarding becomes much easier, as users won't need to input their billing and shipping information each time they purchase.
Additionally, digital wallets providing escrow services allow buyers and sellers to trade with more confidence. The resulting user experience is frictionless, an increasingly important consideration for online businesses nowadays.
Eduard Grau, Head of Product at Unnax, explains:
"During the internet revolution, new disruptive business models were created, designed specifically to improve how we communicate. These technologies have created new value for companies, clients and society in general. Today, at Unnax, we see our clients creating new, innovative, disruptive business models in a range of industries, leveraging the financial technology we create for them in ways that we couldn't imagine."
Build your own digital wallet with Unnax
If you're wondering how to build a digital wallet for your business, look no further than Unnax. Our platform is designed to help companies produce wallets that meet a specific  business need. Unnax delivers a uniquely smooth onboarding experience coupled with Spanish IBANs, to ensure end-users find it easy and enjoyable to use their digital wallets.
Tailor-made for each client, Unnax digital wallets can be used for a wide range of purposes.  Contact us today to get started!