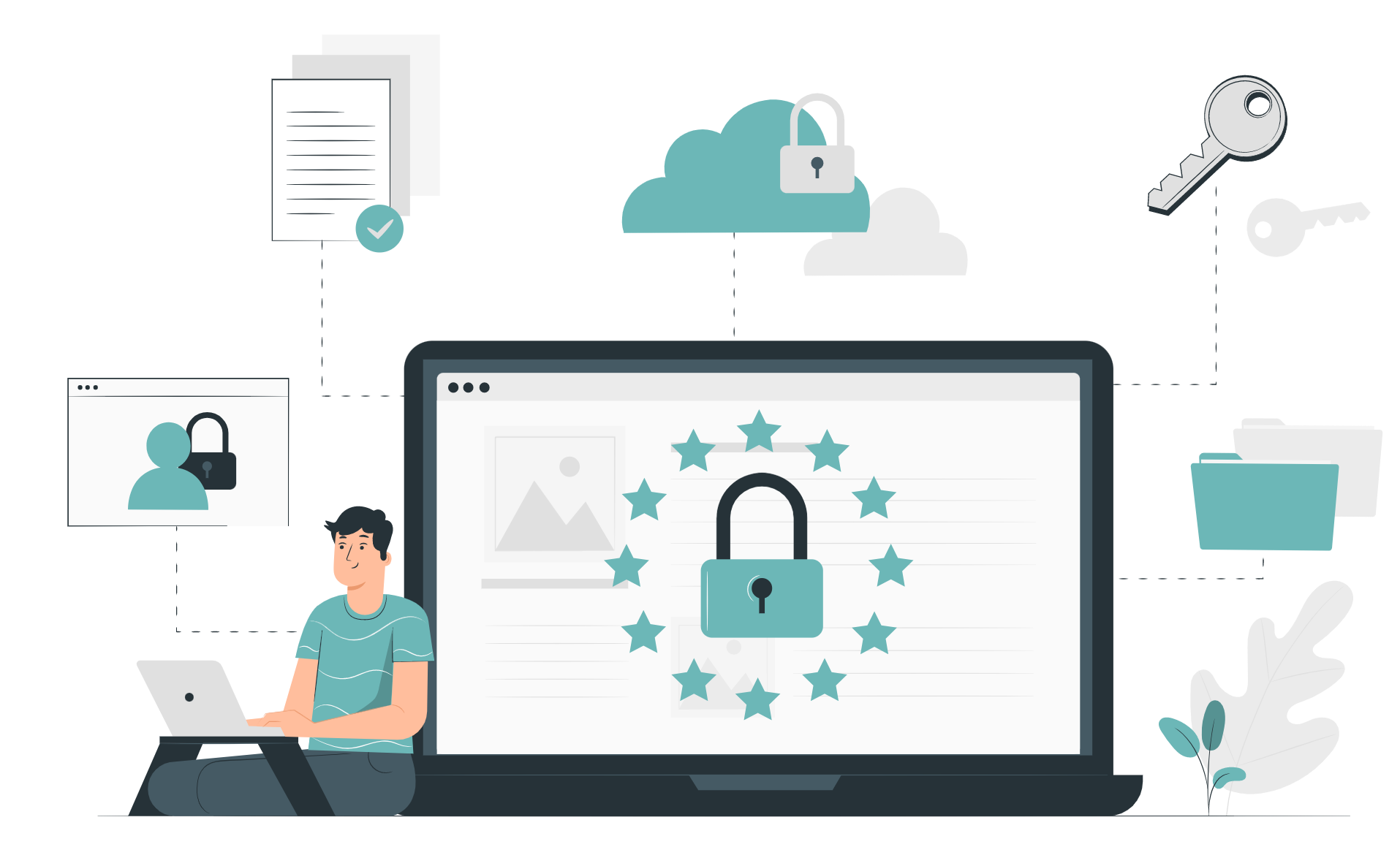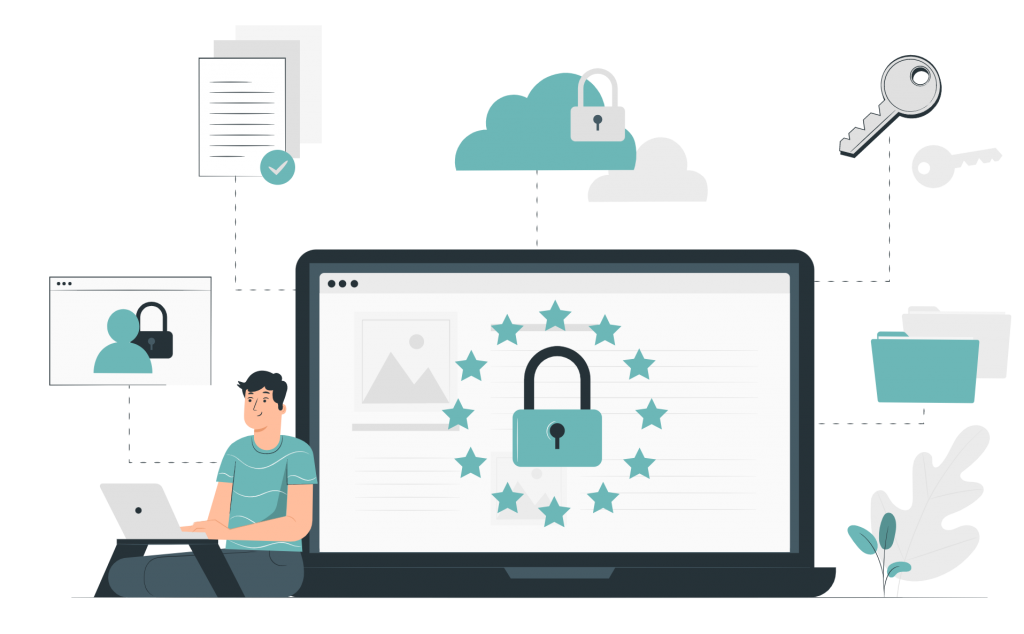 ---
Read straight through, or jump to the section you want to read
---
The number of licenses granted to Electronic Money Institutions (EMIs) in the European Union has been increasing in recent years. This has been due to the democratization of finances and the market demanding the development of innovative services and products suited to the needs of increasingly digital consumers.
At present, we can see how easier it is to build innovative financial platforms, such as neobanks or crypto platforms, and how the number of non-financial companies creating new business models is rising thanks to embedded finance.
At Unnax we have experienced directly these changes in the financial and technological sector. This is why we are one of the few Electronic Money Institutions to hold a license granted by the Banco de España since 2020. Furthermore, we are the only institution that is able to offer additionally payment initiation services and account information services under PSD2 regulations.
To clear up any doubts, we have gathered here the most frequently asked questions about electronic money institutions and explain how they operate and why obtaining a license in Spain is not so simple.
What is an EMI?
An Electronic Money Institution is an organization that has been granted a license to issue electronic money, that is, money stored on an electronic or digital medium, such as a cellphones or card, that can be used to carry out transactions.
Whereas following the standard parameters established by the EU is compulsory, each Member State has the power to grant or deny electronic money licenses. In the case of Spain the Banco de España, together with SEPBLAC (Spain's Executive Service of the Commission for the Prevention of Money Laundering and Monetary Offenses), is the entity responsible for granting these licenses.
EMIs are regulated under Spanish Law 21/2011 of July 26 and Spanish Royal Decree 778/2012 of May 4, which enable them to manage various payment services. However, their main activity involves issuing electronic money that is admitted as a means of payment by companies other than the same EMI.
Read more: Unnax, the first Fintech with the triple EMI, AISP and PISP license
What is electronic money?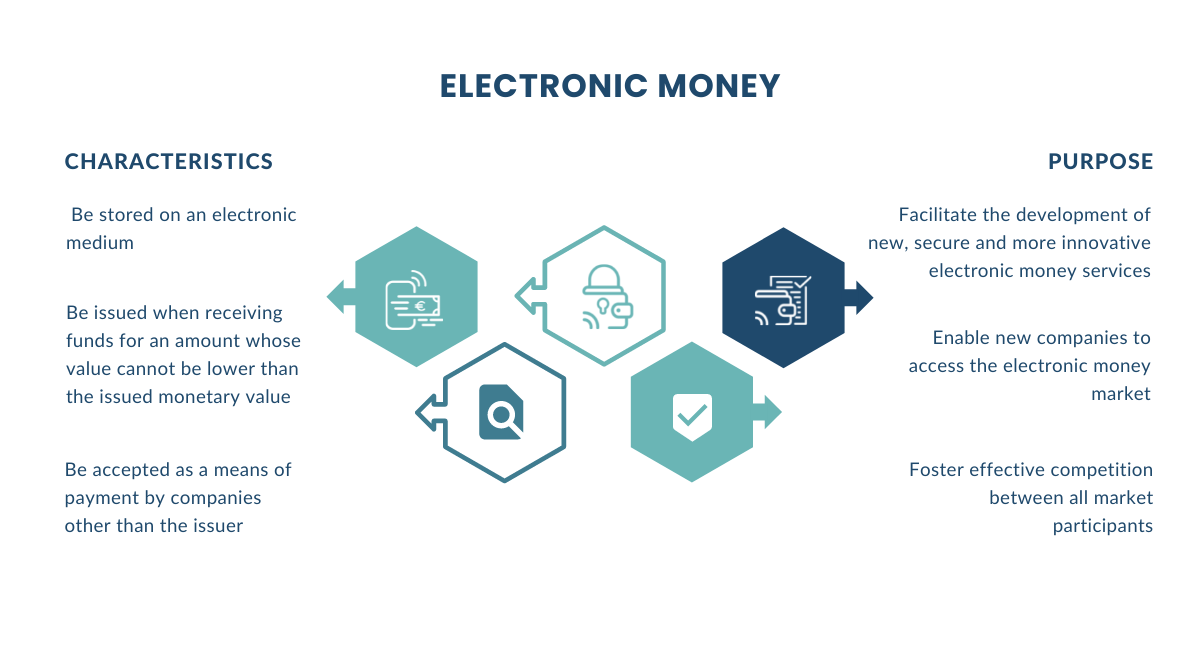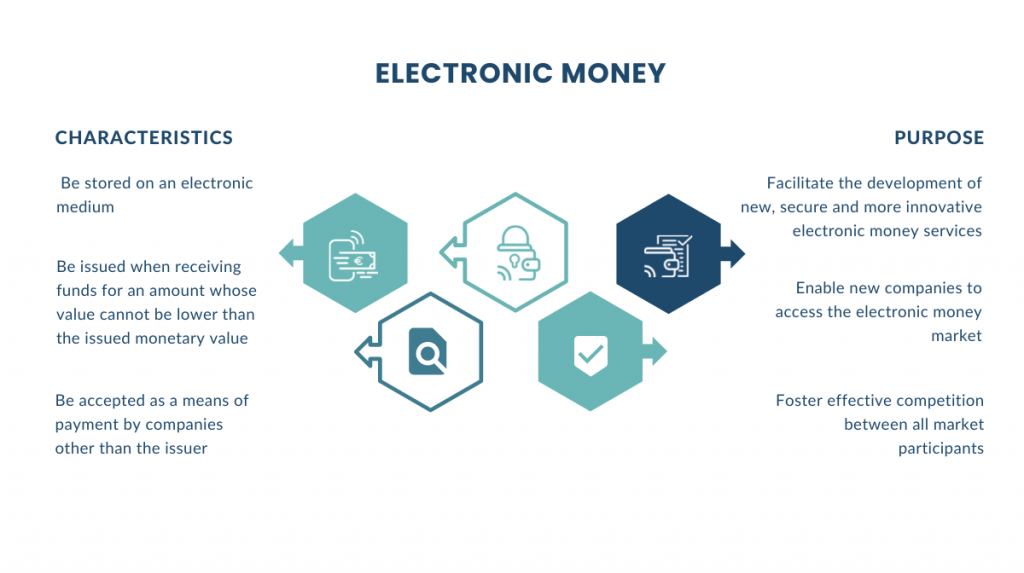 The Banco de España defines electronic money as follows:
«Any monetary value stored by electronic or magnetic means represented by a claim on the issuer which is issued on receipt of funds for the purpose of making payment transactions […], and which is issued by a natural or legal person other than the electronic money issuer.»
In short, we could say that electronic money is the digital alternative to cash. This alternative allows making transactions with money stored on digital media, such as digital wallets, cards or even the Internet, and it must have the following characteristics:
– Be stored on an electronic medium
– Be issued when receiving funds for an amount whose value cannot be lower than the issued monetary value
– Be accepted as a means of payment by companies other than the issuer
Furthermore, as per European guidelines, electronic money has the following purpose:
– Facilitate the development of new, secure and more innovative electronic money services
– Enable new companies to access the electronic money market
– Foster effective competition between all market participants
What is the scope of the services provided by an Electronic Money Institution?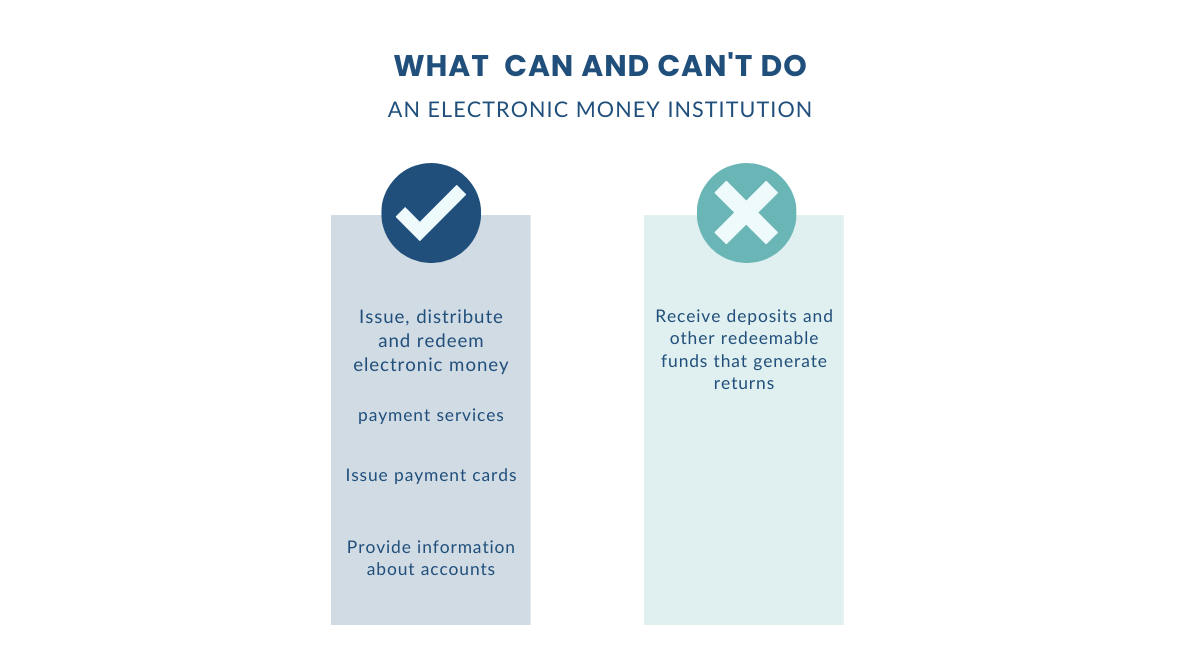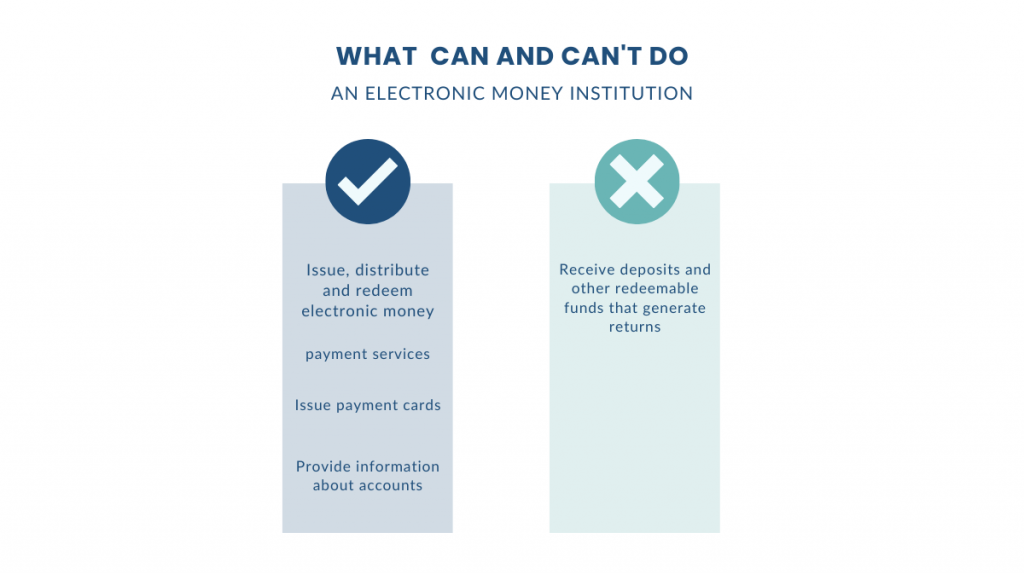 A company that holds an electronic money license is entitled to carry out the following activities:
– Issue, distribute and redeem electronic money
– Provide payment services that enable transactions with electronic money, such as cash withdrawals from a payment account, transfers of funds to third parties and the delivery of remittances
– Issue payment cards that allow the user to withdraw and deposit cash
– Provide information about accounts
It is important to know that EMIs cannot do the following:
– Receive deposits and other redeemable funds that generate returns
The money received by an EMI is not considered a deposit. According to article 8.3 of Law 21/2011, they must convert immediately the received funds into electronic money.
What is the difference between a banking license and an EMI license?
The electronic money and banking licenses are the most comprehensive and complex licenses out there. However, there are some differences.
With regard to capturing deposits and marketing accounts, EMIs are not allowed to accrue interest.
Moreover, they are not adhered to any deposit guarantee fund, which means that they must keep the funds in separate accounts and take out insurance to cover these funds or invest them in low-risk assets.
EMIs are distinguished for providing customer-centric services, and innovative products, such as neobanks, digital wallets, payment systems and finance management applications, are being developed through licensing.

What are the requirements for obtaining an EMI license in Spain?
The Banco de España is the entity responsible for granting EMI licenses in Spain.
The EMIs' regulatory framework is set out in Law 21/2011, of July 26, on electronic money, as amended by Royal Decree-Law 19/2018, of November 23. Both laws establish a series of requirements for companies that want to become electronic money institutions.
The requirements are as follows:
Structure: organizations applying for an EMI license must establish an appropriate administrative and accounting structure, with the required internal control procedures to ensure a sound management
Partners and shareholders: company stakeholders must be considered fit, and the transparency of shareholders and reputation of directors and managers will be valued
Capital: EMIs must comply with the minimum initial capital requirements of not less than 350,000 euros and the required own funds
Registration: they must be registered in the Spanish Commercial Registry and in the Spanish Special Registry of Electronic Money Institutions, and they must be authorized by the Banco de España.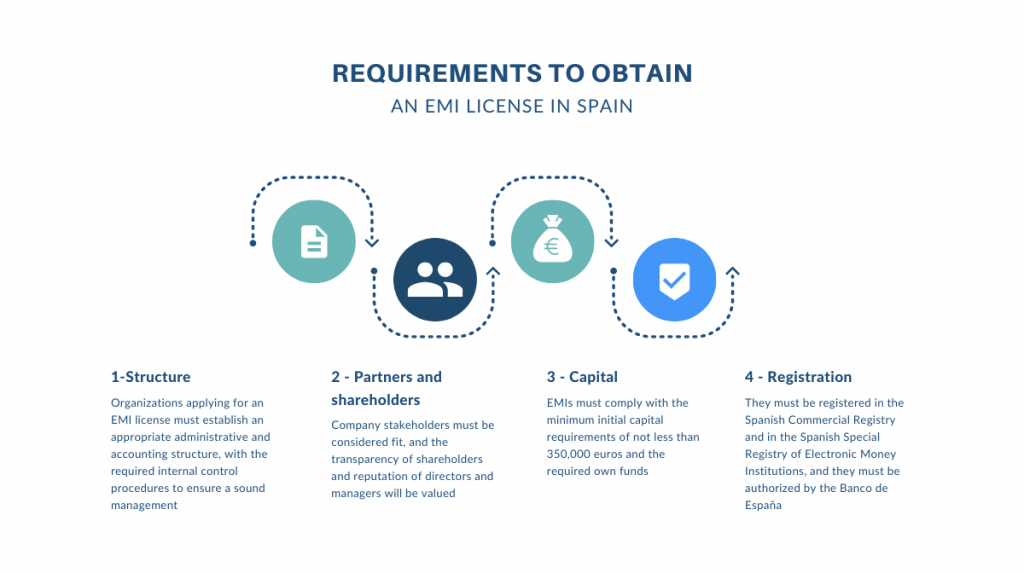 It is important to mention that although the Banco de España has been shortening the period of time for granting financial licenses, such as those for AISP and PISP, the various processes involved in obtaining an Electronic Money Institution license can take more than two years to complete.
This makes the Electronic Money Entity license one of the most difficult and important to obtain. However, there is an alternative for organizations that need to create financial services within the scope of an EMI license, which is to become associated with one of these institutions.
European passport
Obtaining an Electronic Money Institution license in Spain also enables these entities to perform their activity in all countries within the European Economic Area (EEA). This is known as «passporting» the license.
If an EMI intends to carry out its activity in Member States other than those from which it obtained the license, it will need to notify their supervisory body. In the case of Spain it is the Banco de España which, after receiving the request, will notify the supervisory authorities of the Member State in which the institution intends to commence its activity.
What are some of the benefits of associating with an EMI?
Many innovative companies have chosen to associate with an EMI in order to be able to build innovative products and services in a quick and secure way. An example of this is Bcn10, the first Spanish neobank that, in collaboration with an EMI, has been able to build its powerful banking application.
Conversely, there are non-financial enterprises like Shopify, which a couple of years ago created a service to help its clients to obtain credit. The Canadian company used its internal data to improve its retailers' sales forecast.
Unnax is one of the few companies in Spain that have managed to obtain the license from the Banco de España to operate as an Electronic Money Institution and that hold a European passport, allowing it to operate in Southern Europe, in countries like Italy, France and Portugal.
We currently have the capacity to provide further security and flexibility in the modular services we offer. Our clients can use our license and technology to create innovative financial services that drive them to lead their sectors, as well as to build new financial models on financial licenses.
What services can we offer?
Issuance of Bank Accounts and IBANs
Escrow Accounts
Digital Wallets
Payment Initiation (Pay In and Pay Out)
Money Movements (transfers, debits, direct debits)
Data classification
Financial indicators
Onboarding solutions with AML and KYC
Companies operating with an EMI-licensed entity such as Unnax can engage in Open Banking and Banking-as-a-Service and offer services including payments, issuance of electronic money, escrow account processes, and workflows and automation that have a direct impact on each user's experience.
EMIs have a perfect understanding of the digital environment. Thanks to the exclusivity of their business model, structure and license, they are more innovative and flexible than traditional banks. This creates great opportunities for all types of business, and we are well aware of this at Unnax.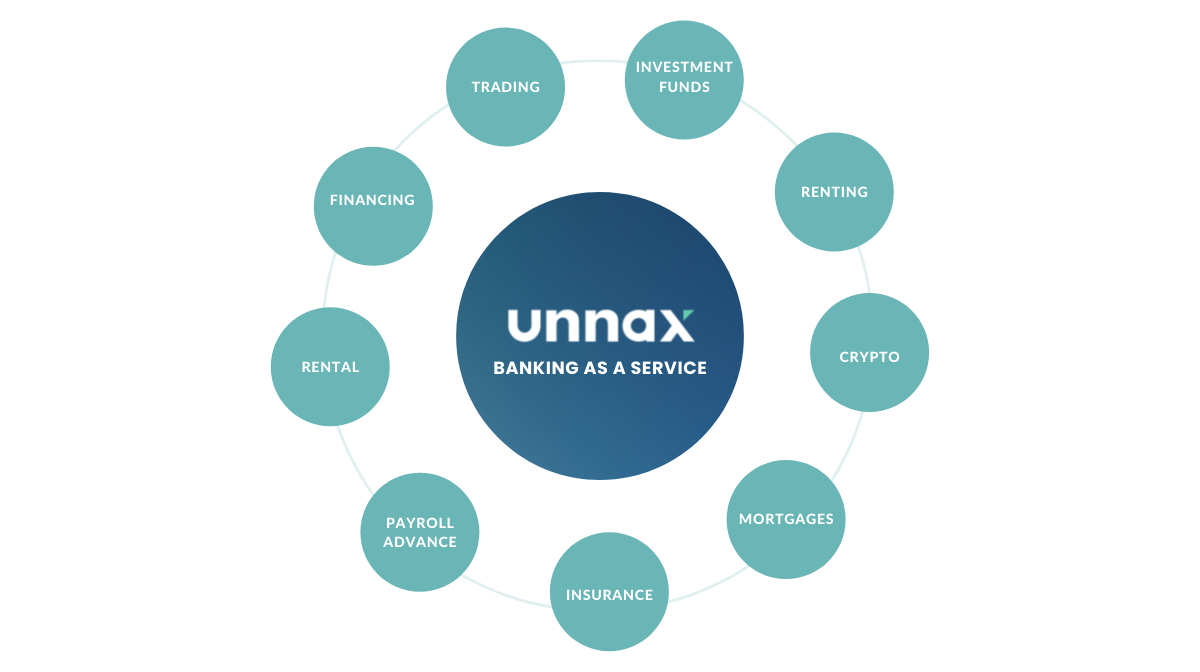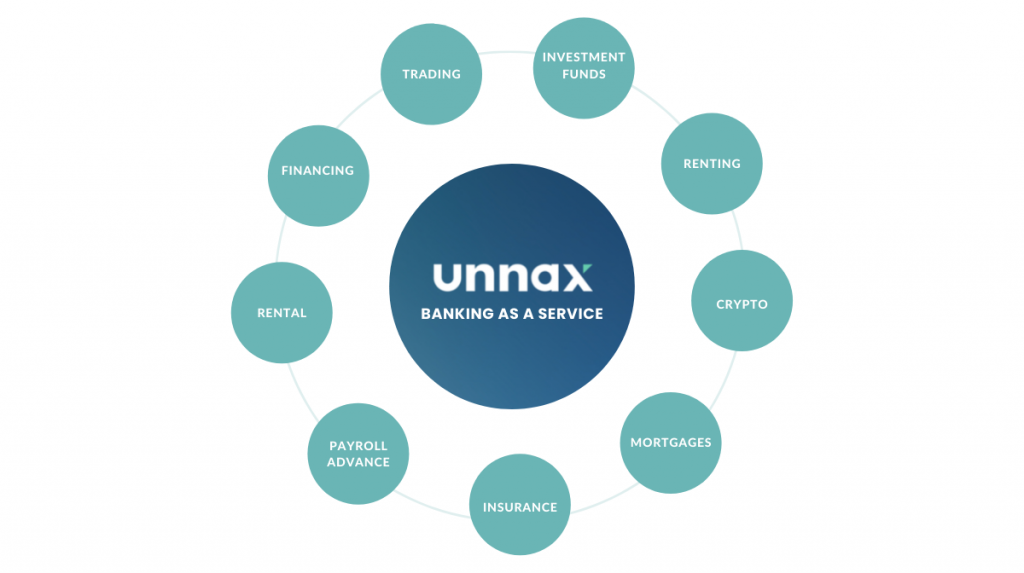 Learn more: Banking as a Service explained
For example, a crypto exchange platform can use our license to build the entire regulated infrastructure for identification, safeguarding fiat currency and the payment gateway.
In addition, we can cover the whole spectrum of embedded finance. This model allows creating an innovative financial offer integrated with the purchase of non-financial services or products. As a result, companies in all sectors will be able to expand their value proposition by offering tailor-made financial services to their clients.
Whether you are looking to create a new business model or an integrated payment solution or you need a partner that understands in depth the complexities of the regulation and the technology you need, contact us here. We will be glad to help you.