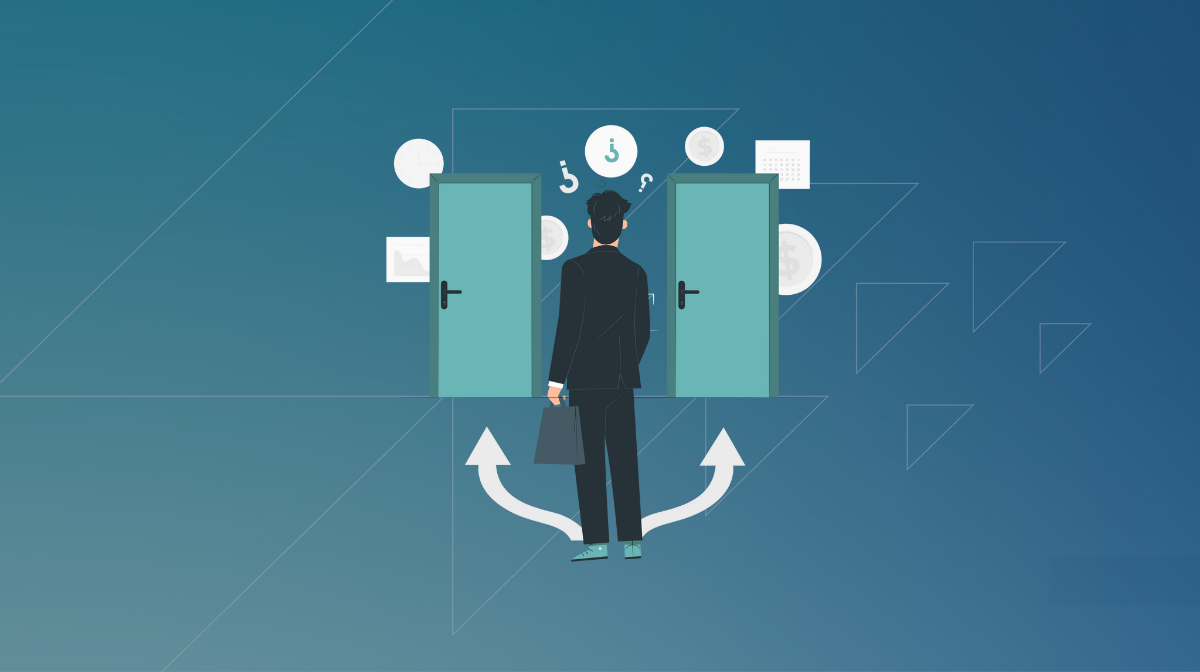 The mainstream world has officially adopted cryptocurrency, neobanking, online lending, and a range of alternative banking options. For organizations looking to offer these types of innovative financial services, it's crucial to understand and respect the different legislations put in place by governing bodies.
One of the most important decisions that any company in this industry, and beyond, must make is the choice between becoming an Electronic Money Institution (EMI) or partnering with an EMI. This article will compare the benefits of each.
---
Read straight through, or jump to the section you want to read
---
Why do companies need to be regulated to offer financial services?
As the provision of financial services can carry a high level of risk for consumers, governments introduced laws and regulations to protect them. Consequently, all companies who want to offer financial services must meet the specific standards set out by the governments in the regions they want to operate in. 
This concept sounds great in theory, but it can be challenging for companies to obtain the necessary regulation in practice. Applying for a license can be lengthy and costly, and there is no guarantee that the application will even be successful.
In Spain
Let's take Spain as an example. The Bank of Spain is the regulatory body responsible for issuing licenses to companies that wish to provide financial services in the country. An EMI license, for instance, enables you to offer services like authenticating, accepting, and handling electronic payments, as well as to issue electronic money. To apply for this license, a company must meet several requirements, including:
   

Having a minimum base capital of €350K and maintaining a sufficient amount at all times

   

A team of qualified employees in the administration and finance departments

   

An adequate organizational and control structure

   

Adequate risk management procedures

   

Suitability of shareholders that have significant participation
At the time this article was published, only 9 EMI licenses had been granted by the Bank of Spain, and it currently takes up to two years to get a license. 
Read more: Everything you need to know about Electronic Money Institutions  
Pros of obtaining your EMI license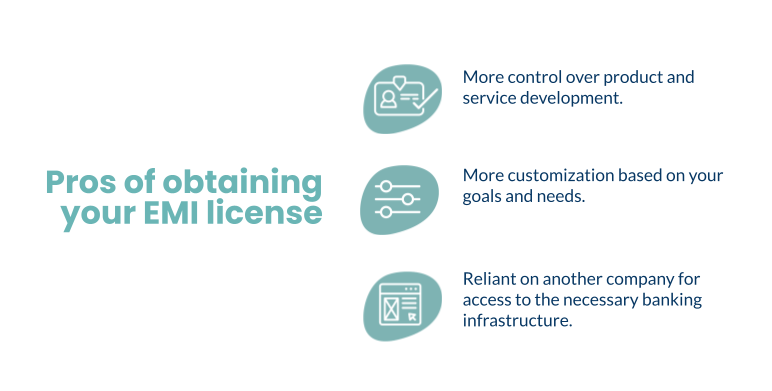 Although the headache of obtaining a license can be daunting, some good comes out of the process. Mostly, you will not be reliant on another company for access to the necessary banking infrastructure. This means that obtaining your own license will give you more control over product and service development, enabling more customization based on your goals and needs. 
Of course, this also means you have to spend significant time and capital to develop and maintain your own infrastructure to ensure high quality of service and full operationality of your solutions at all times.
The benefits of partnering with an EMI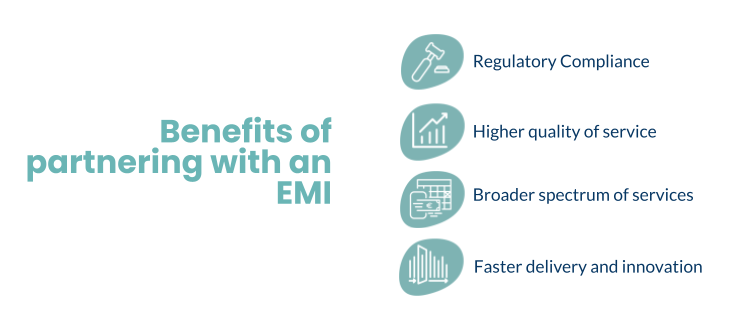 nstead, many companies partner with an EMI partner like Unnax. There are many benefits to this approach.
Regulatory Compliance
A major benefit of partnering with an EMI is that they can help you meet regulatory standards and requirements for electronic money, including the PSD2 mandate, KYC, AML, SCA and more. 
These include ensuring that transactions are processed securely and reliably as well as treating personal data in line with GDPR and other laws. Additionally, you also need to run KYC and AML checks and make sure you're only onboarding customers that pass both to prevent any possible money laundering.
It's complex and costly to understand and meet all of the requirements of the PSD2 and other regulations on your own but partnering with an EMI will lighten the load. This is because EMIs, by nature, must meet PSD2 requirements and adhere to strict financial standards. So if you provide financial services via an EMI, you can ensure compliance with regulations relating to electronic money. 
Higher quality of service
EMIs are also typically innovative organizations with the resources to invest in cutting-edge technology and hire the best talent, resulting in a higher quality of service for their partners.
Broader spectrum of services
EMIs offer a broader spectrum of services than those provided by traditional banks. Because they are specialists in e-money and have years of experience in the industry, you can expect to receive top-notch service when working with an EMI.
Features like instant verification, digital wallets, and merchant solutions are just some of the services you can expect to receive, and EMIs do it better! From faster processing times to lower fees, if you're looking for a reliable way to process digital euro transactions, Unnax is the perfect partner.
Faster delivery and innovation 
By partnering with an EMI, you save all the pain of going through a costly and complex process that often takes up to two years and has no guarantee of success. 
This adds clarity for your business and allows you to almost instantly start offering new financial services to your customers – which is key in today's competitive and fast-paced markets.
Who is Unnax For?
Unnax is an e-money institution, we help companies across the globe build innovative financial services effortlessly and securely through our modular API-based Banking-as-a-Service platform. Those who can benefit from our expertise include:
Neobanks/Challenger Banks

Crypto platforms

Online Lending (microlending, BNPL)

Insurance firms

Marketplaces & e-commerce firms

Software companies

Organizations looking to offer embedded finance services

Final Thoughts
Despite offering some advantages, obtaining your own EMI license is a considerable, expensive, and long undertaking. So if you're looking for a faster, better way to innovate, expand your business, and offer new financial products and services, becoming an EMI partner is the perfect solution.
Contact Unnax today to learn more about how we can help you grow.