For lenders, onboarding is the most important part of the lending process.
A smooth, friction-free onboarding gives customers a good impression and helps build trust with the lender right from the beginning. On the other hand, an onboarding that isn't compliant, doesn't capture data, and has a complex UX, will increase drop-off rates and make decisioning and risk assessments more difficult down the line.
Yet, balancing AML and an effective KYC onboarding with a smooth user experience can be difficult for lenders. And with online credit card fraud on the rise, these policies are likely to only get stricter.
The good news is that Open Banking can help simplify the onboarding process while offering a superior experience to customers.
👉 You may like: 7 Ways Open Banking can improve customer experience
What problems do lenders face during user onboarding?
There are three main problems lenders face when it comes to onboarding: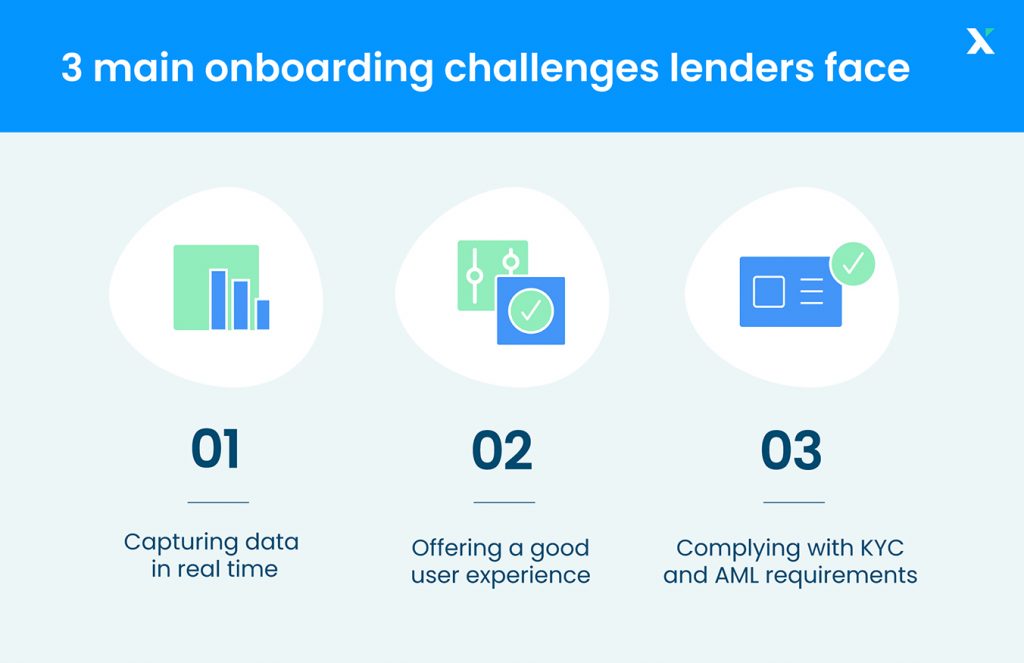 Capturing data in real time
When it comes to gathering customer data, many lenders still rely on legacy processes such as requesting and analyzing pay slips and bank extracts when making credit decisions. These documents are not tamper-proof, which means they are often subject to fraud and are also manual to process. They also don't provide a holistic overview of a customer's financial health.
Offering a good user experience
In a world where consumers are used to online customer-centric experiences offered by big tech companies, a bad user experience is enough to turn away potential customers.
Gathering all the important information in an intuitive and fast way while also offering a great user experience is a challenge for all lenders who want to build a trustworthy digital onboarding process.
Complying with KYC and AML requirements
KYC and AML checks used to be done in person: the customer just had to hand over their official documents to meet compliance checks. But with digitization, especially during the Covid era, this is no longer an option: lenders must comply with KYC and AML through online channels.
Creating a user journey that meets KYC and AML requirements and is also easy to complete is a major challenge in itself.
The onboarding workflow with and without Open Banking
What does the traditional onboarding process look like, and what does it look like through Open Banking enabled onboarding? Let's compare the two.
Without Open Banking
The traditional onboarding process is mostly static. The borrower sends in an application along with relevant personal files, the credit issuer then runs a check on the person's financial profile and then creates a credit score for that potential borrower.
The indicators used to assess this person's score include income stability, debt repayment history, and financial assets. This might also involve going to third parties such as credit bureaus to get a better picture of the borrower's financial health. All the information gathered builds a "snapshot" of a person's finances, which helps the lender decide whether to offer them a loan or not and how much to charge.
This model causes quite a few problems, especially during times of greater uncertainty as we are experiencing now. Why? Because nowadays, some people may be on unemployment benefits for longer, while others will be in the middle of changing jobs and may need to borrow more than they usually do. The current snapshot model does not show or verify how much a person earns or spends every month — a crucial part of measuring a customer's financial viability.
With spending habits constantly changing, a snapshot of someone's personal finances in the last three months is no longer enough to perform an accurate credit risk assessment of a customer. In today's age, we need something better.
With Open Banking
As we've mentioned above, lenders can't get an adequate picture of a borrower's risk with just a simple snapshot. Relying on credit agencies is an outdated model, and using PDFs causes additional problems such as fraud and formatting errors.
This can be resolved through account aggregation, a service that is possible thanks to Open Banking.
Open Banking allows secure financial data sharing: it essentially consolidates financial data into one stream through an API. Instead of downloading and uploading PDF documents, the borrower integrates their financial accounts with the lender with just a few simple clicks.
With Open Banking, lenders can gather information from all financial touchpoints, including bank accounts, loans, and payment cards. This enables a much more accurate picture of a borrower's spending habits, including details that a single snapshot in time cannot offer.
For example, a prospective borrower may have a relatively high income, but might have a history of online gambling. Compared to someone who doesn't earn as much, but is careful with their spending, this person is more risky — gambling addiction carries a very high level of risk, so even though customer #1 earns more, the uncertainty around them is much greater.
Account aggregation allows creditors to measure affordability, rather than generic financial information. By analyzing a person's finances, creditors can filter out the payments that matter. Knowing whether a person repays their debts on time, for example, is a much more important metric than a general summary of a borrower's expenses in the last month.
Moreover, account aggregation gives lenders a much more holistic view of their borrowers and also allows them to monitor a borrower's creditworthiness in real-time, drastically decreasing the risk on their loan books.
Therefore, as the image below shows, with Open Banking the onboarding process is a lot smoother and it's a lot easier to complete AML and KYC checks.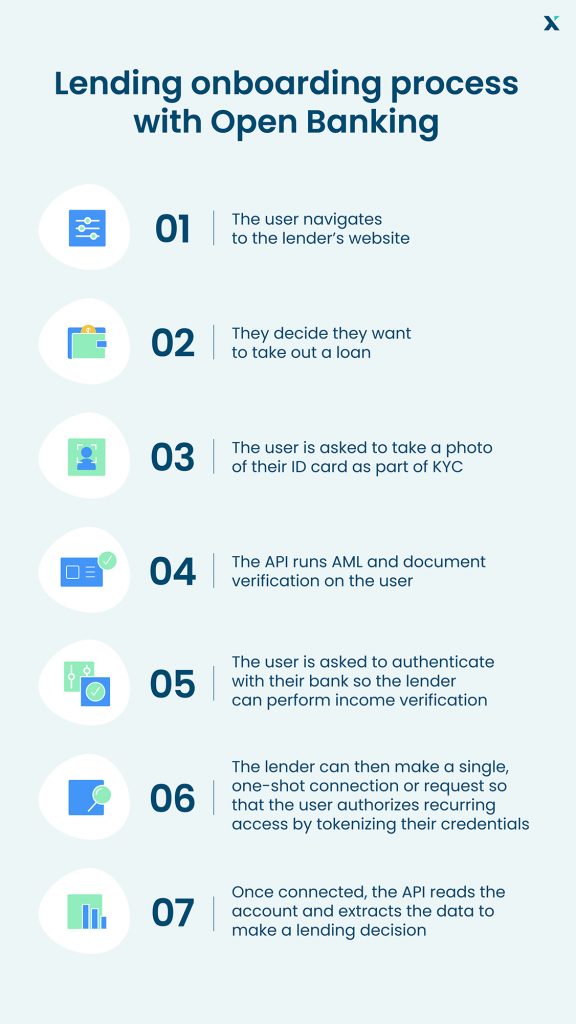 👉 Learn more: How to digitize onboarding for the social distancing era
It's important to note that only licensed and authorized third parties can view this data. At Unnax, for example, we hold three licenses to perform these checks.
Benefits of an Open Banking-led onboarding workflow
An Open Banking-enabled onboarding is beneficial for both lenders and borrowers. For borrowers, it's a process that is a lot more secure since they don't need to share login information or bank statements. It's also beneficial for thin-file borrowers: people who have a short credit history. By using real-time data, lenders can make credit decisions without requiring months of financial history.
For lenders, financial indicators offer a much richer overview of a customer's profile, making it a lot easier to make accurate lending decisions. It's also easier to complete online AML and KYC checks: since lenders are accessing a borrower's accounts directly, identity verification is baked into the process. The lender just needs to partner with the right provider to integrate AML and KYC into their existing workflow.
The technology to build a better onboarding process
What are the different moving parts of the Open Banking onboarding process?
Account aggregation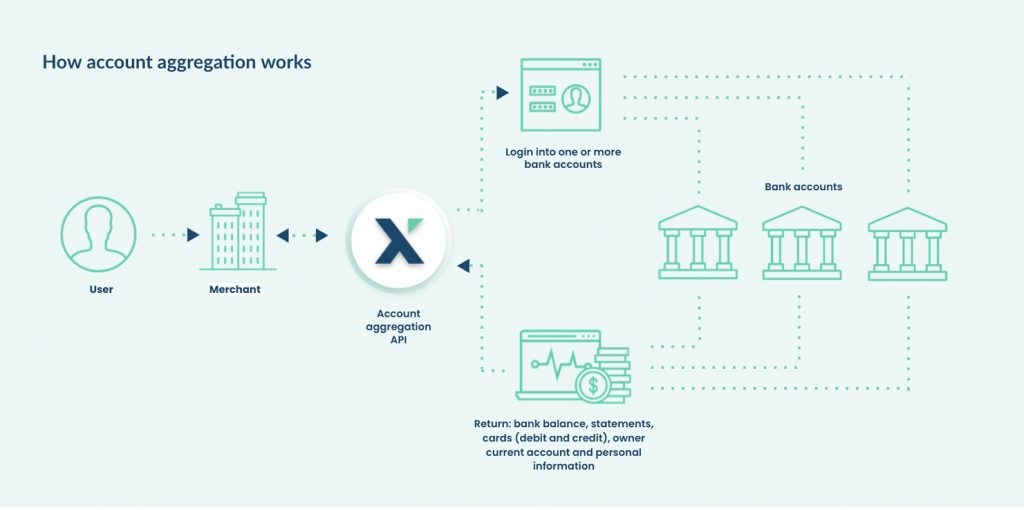 Account aggregation is a service that enables direct access to financial details (securely and with consent). It's the key to enabling a secure transfer of information by consolidating all financial data through one API stream.
This all happens through a bank aggregation widget that is installed on the lender's website. Once the borrower signs up, data is captured immediately and allows all major financial data points to be captured in one feed.
This feed happens in real-time and can be easily filtered through for relevant information. Credentials can also be tokenized, allowing the lender continuous access to a borrower's financial details. It's important to note that the connection is in read-only mode, which means only the access party can see the data and not change it.
Account aggregation is the key to making loan applications faster, fairer, and a lot more personalized for the customer.
👉 You may like: Everything you need to know about Account Aggregation
KYC & AML
A great onboarding process has smooth KYC and AML verification, and this is possible with Open Banking.
During the onboarding process, KYC comes first and will be completed differently depending on your provider. At Unnax, for example, KYC happens in the form of a selfie. As the image below shows, our tool uses facial recognition and compares multiple data sources which score and verify the user.
Once that is completed, the AML checks then take place in the backend. We comply with AML by putting a user's details through several protected persons and terrorist lists. We then also complete a full background check to ensure the person is someone who can be trusted and be lent money to.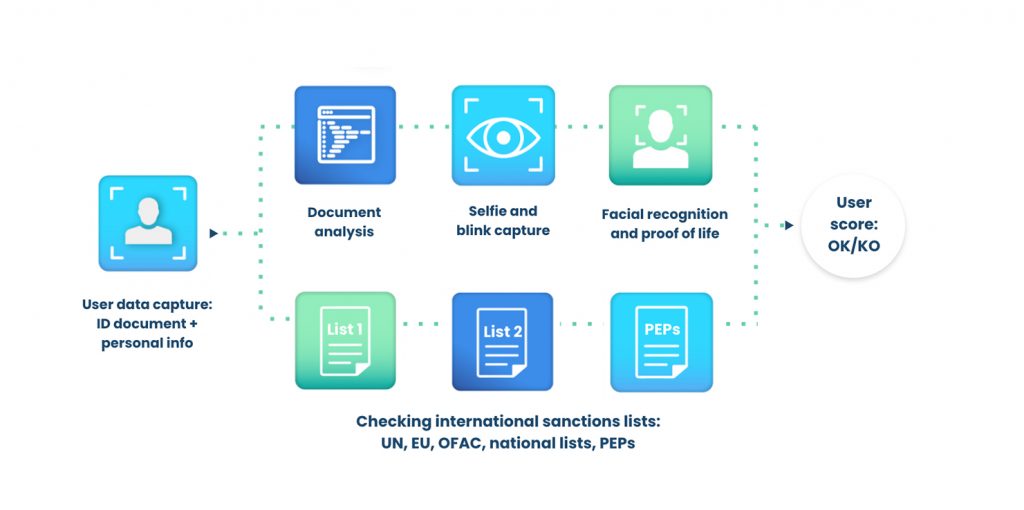 The entire process is automated from end to end, which means lenders don't have to intervene in the process. This eliminates human error, reduces the time it takes to onboard new customers, and triangulates the customer data in real-time, overall reducing the rates of identity fraud.
👉 Learn more: Everything you need to know about identity verification
Onboarding is the most crucial part of the lending process — and yet outdated systems and confusing workflows often mean that drop-off rates are high and customer profiles are incomplete. With Open Banking, lenders have an opportunity to offer a much higher quality onboarding process, while also gathering more important financial data and making better credit risk decisions.