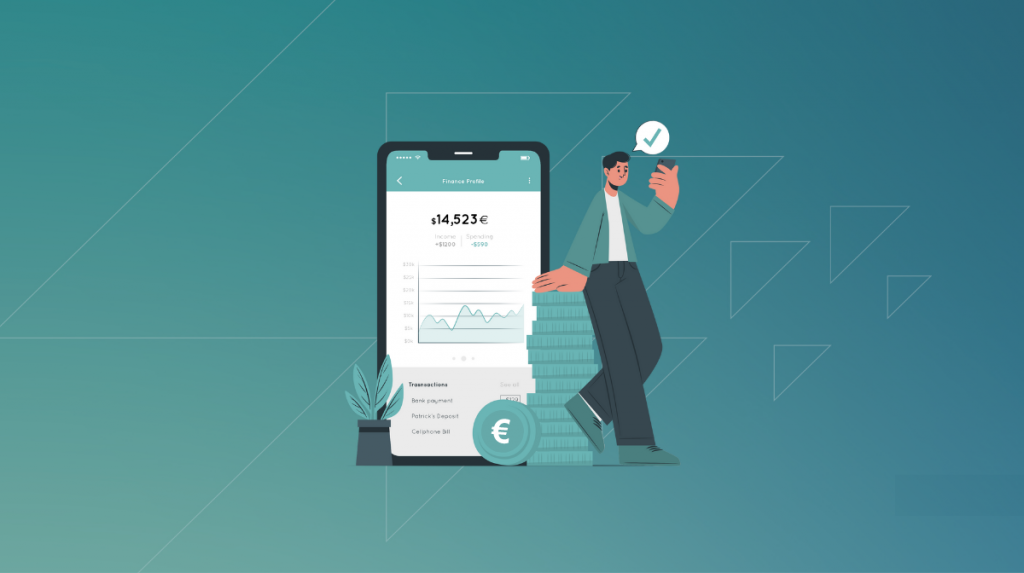 Are you looking for a new tool to attract and retain new customers? Whether you're a bank, Fintech, or other financial markets business, personal financial management tools (PFMs) are a great way to help your customers gain a better understanding of their finances. They also have the added benefit of opening you up to new markets.
---
Read straight through, or jump to the section you want to read:
---
What is a PFM?
PFMs help users manage their money more efficiently. They give users a bird's-eye view of their overall financial situation by including all their accounts from different banking institutions, which then enables them to make better financial decisions.
PFM apps offer budgeting tools, expense tracking, and alerts for upcoming bills. As well as providing users with a comprehensive view of their finances, they empower banks and Fintechs with a complete understanding of these users' financial situations.
Why should you offer a personal financial management tool?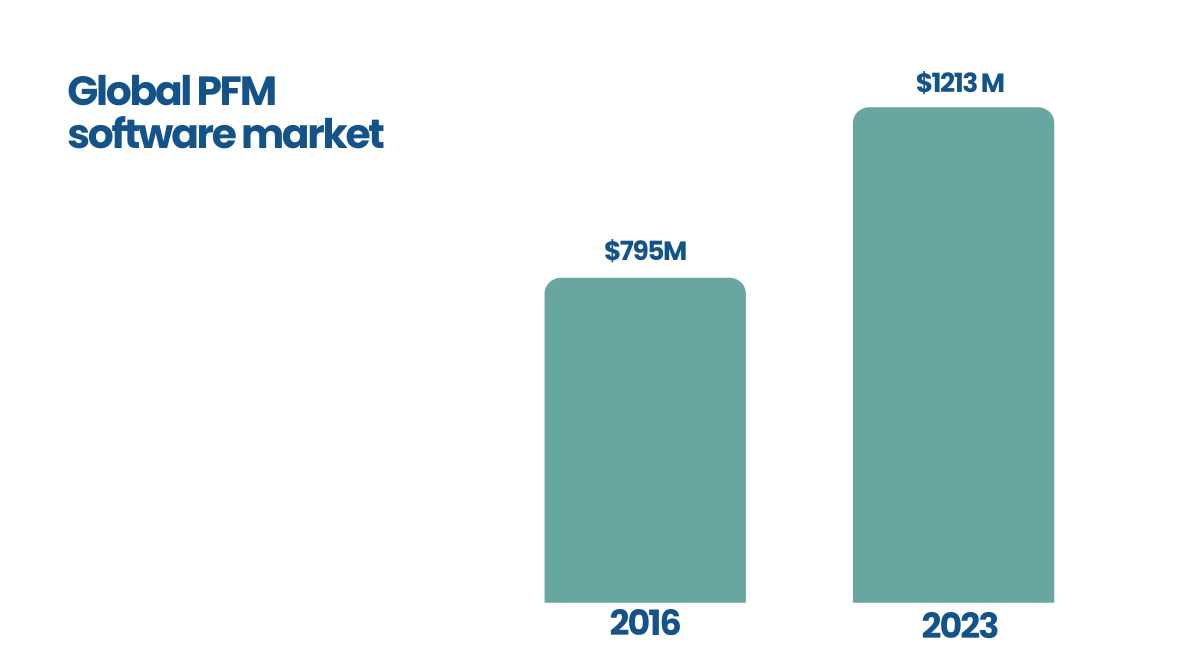 It can be difficult to give your customers a holistic understanding of their assets when they have accounts at a range of different financial institutions. PFMs overcome this issue as they are designed to assist your users in improving their overall financial health and gaining more control over their finances. By consolidating the visibility of your customers' assets into one tool, you can help them manage their money more efficiently, understand your customers better, get deeper insights into their financial behaviors, and track your competitors' offers.
But do your users even want a PFM? Absolutely. According to the latest FinTech Adoption Index by EY, the adoption rate of budgeting and financial planning tools has increased from 10% in 2017 to 29% in 2019. This number will most likely have risen further since then, with studies predicting an increase in the overall PFM market from $1.024M in 2019 to $1.577M by 2027.
Moreover, according to a Business Insider study on PFMs, "Bank customers who make use of personal finance management tools on average are 18% wealthier than those who don't." They go on to mention that "over 70% of Gen Zers believe brands should help them achieve personal goals and aspirations.'" Implementing a PFM application is a great way to tap into younger, digitally native demographics.
Bringing you closer to your users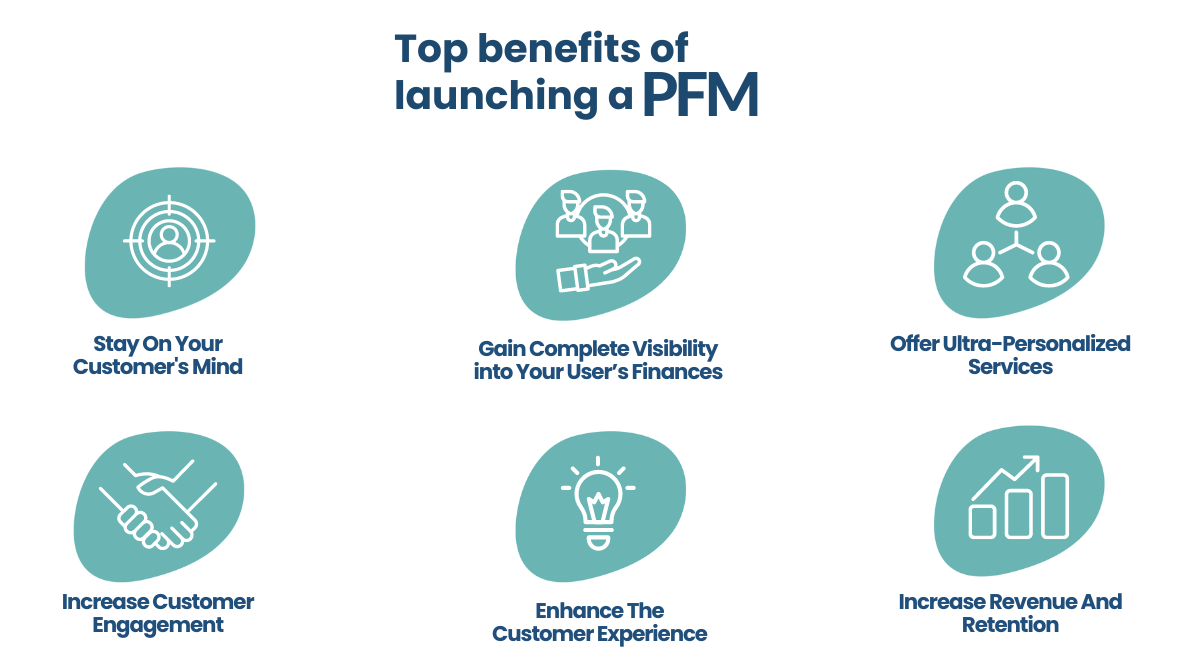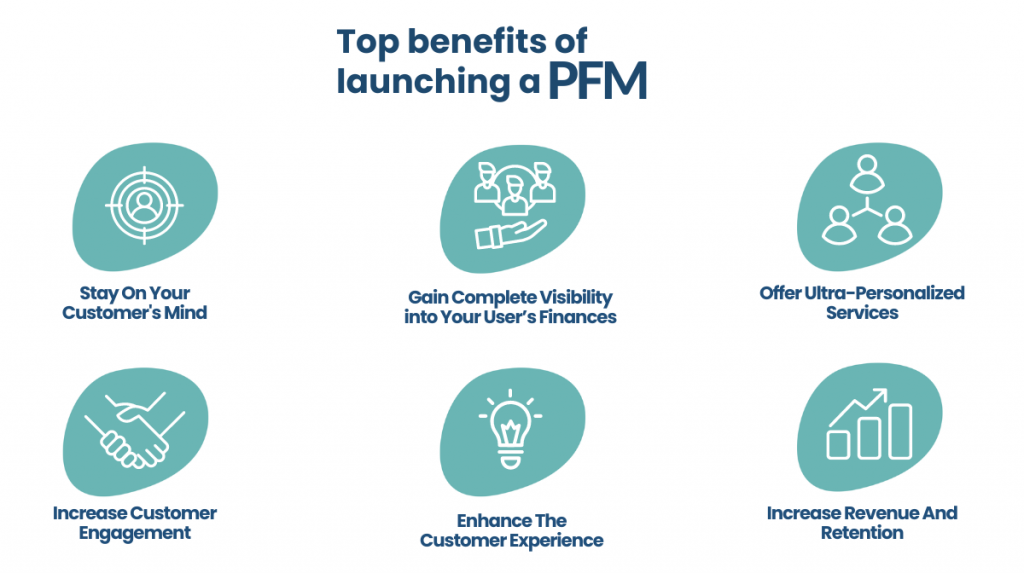 Gain a competitive edge
The first benefit of launching a PFM app is that you're able to deliver a unique product that's tailored to your brand and your customer base. This presence gives you a competitive edge and differentiates you from other banks and Fintechs. Once they've come to rely on your PFM, your users will think of you every time they use it. That keeps you top-of-mind and builds customer loyalty.
Get comprehensive visibility into your customers' financial behavior
You also obtain an accurate and comprehensive view of your customers' finances. You get detailed insights into their preferences and habits and can create a unique experience designed just for them. A PFM enables you to access and analyze all of your users' financial information with clean, aggregated, and categorized data. This will help you determine their overall financial situation, identify their spending habits and patterns, and find out which products and services they have with other banks. This additional data also permits you to make better lending or marketing decisions.
👉 Read more: How personal financial data is powering banking innovation
Build loyalty with ultra-personalized services for your users
Another benefit is that you can use your PFM to increase customer engagement. By offering features like budgeting tools and expense tracking, you regularly encourage interaction with your product. This allows you to upsell other products and services and cross-sell your existing customer base.
Additionally, PFM tools help enhance the overall customer experience. By providing your users with a comprehensive view of their finances, you make it easy for them to see the impact of their decisions.
This transparency builds trust and makes it more likely that customers will stay with your service in the long run. Centralizing all their banking information on a single platform is a significant selling point. With a PFM, you're able to better profile and segment your users, enabling you to provide personalized products and services such as loans, insurance, savings, or investment services at the perfect time.
Attract new customers effortlessly
A PFM is a great way to build a pipeline of potential future customers. By encouraging non-customers to use your app and connect with their different banks in one place, you're making sure that your brand is consistently front of mind and available at the touch of a button. That way, you're positioning yourself perfectly the second they are in the market for a new financial provider and can then target them with customized and relevant offers based on the insights gained.
These benefits add up to one thing: increased revenue and retention for your financial institution. A PFM allows you to attract new users, engage existing ones, and improve the overall experience with your brand. This leads to more customers using your products and services as well as less churn in the long run.
Helping your users get to grips with their finances
Turn financial management into an engaging and fully digital experience
A PFM application gives your users the ability to centralize their financial information onto a single platform. With an engaging, fully digital user experience, your customers will have the ability to get an aggregated view of their own financial behavior.
Financial management from the comfort of their couch
With bank branches declining an average of 2% every year for over a decade now, banks must find an alternative solution to ensure customers still feel a deep trust and personal relationship with their banks. With a PFM, whether at home or on the go, your users will have complete 360 management of their assets 24 hours a day, without needing to travel to the bank. PFMs provide a better insight into their financial standing, and with proactive recommendations and actionable insights, they are more likely to improve their financial circumstances and develop a stronger trust in you.
Develop a trusting relationship with your customers
Financial services are all about trust. Help your audience better understand and manage their finances by turning their data into actionable insights and offering personalized, proactive recommendations. Enhance their trust in you by making contact continuous.
Who's already done it?
Several banks and Fintechs across Europe have launched and implemented PFM tools. Let's take a closer look at some case studies:
BBVA
BBVA, a Spanish banking group, was the first company to launch a PFM in Europe. They've recently added an additional feature that rates their users' financial health out of 100 and then helps them take steps towards making better financial decisions.
Metro Bank
Metro Bank, a UK-based independent bank, launched an AI-powered PFM service called Insights. Metro Bank's tool helps users track their spending in real-time, and tells its users when they are nearing the end of a free trial or when they've been incorrectly charged twice for a purchase, thus helping them avoid unnecessary charges.
Santander
Santander, a Spanish bank, launched a PFM app in Denmark under its Norway-based subsidiary. They named the app Propser and opened it up to everyone, whether they were Santander customers or not.
Fintonic
Fintonic, a Spanish-based Fintech, launched its PFM to the Spanish market. Fintonic's PFM gives its users all of their financial information in one place and allows them to set up alerts for certain payments or charges. Fintonic's PFM also provides tips to help users find cheaper financial products, such as less expensive insurance.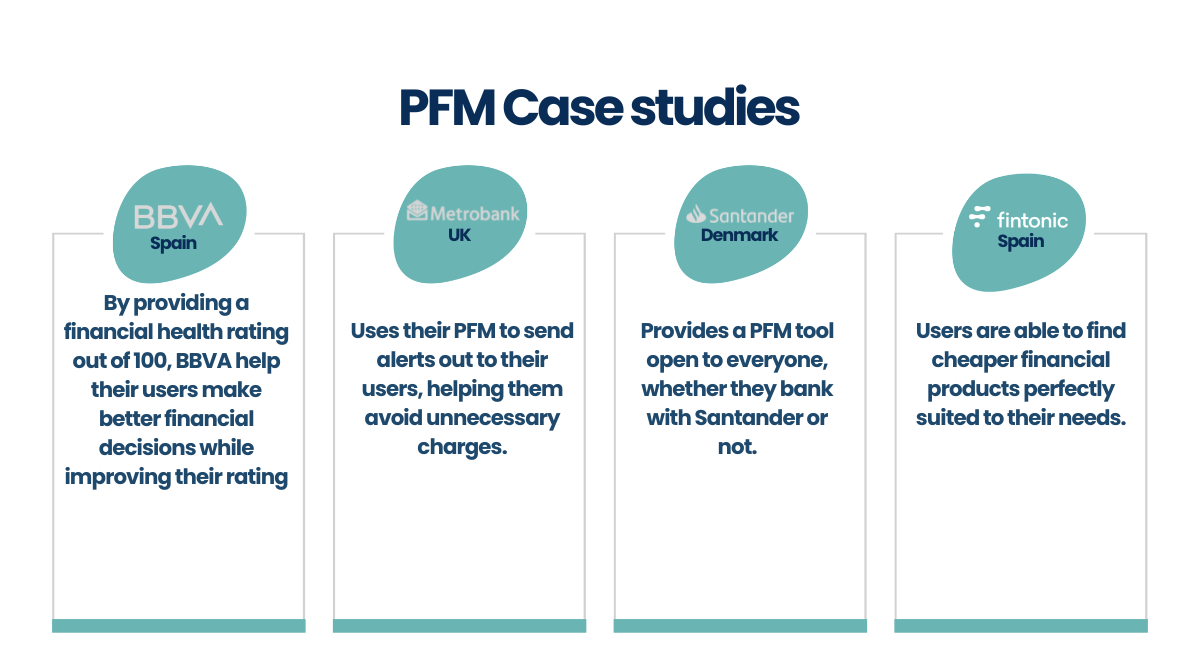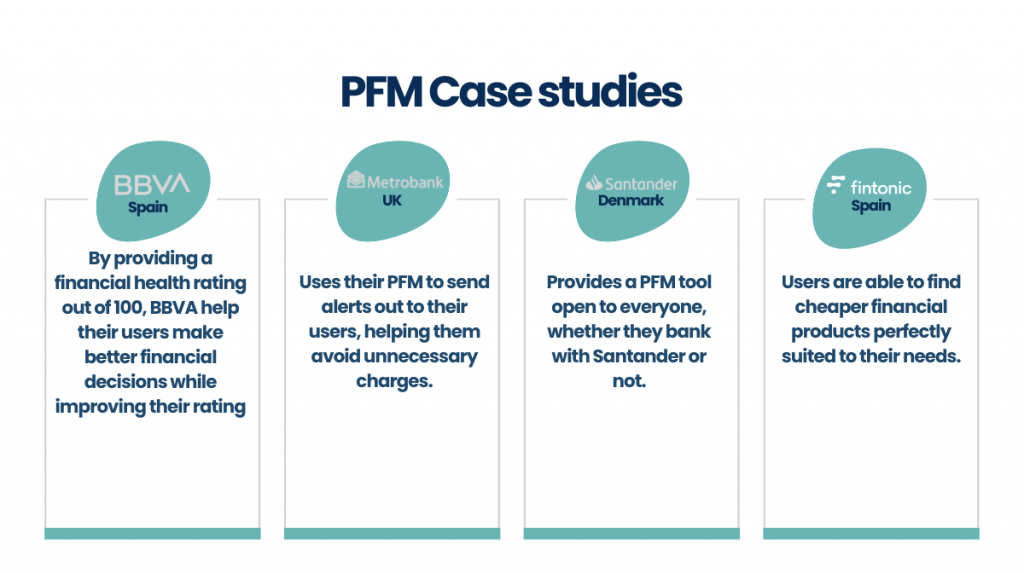 Unnax: We help you build a PFM your customers will love
Offering a PFM app is a great way to attract and retain new users and differentiate yourself from other financial institutions. With Unnax, you can easily create a PFM that enables you to categorize your users' transactions, aggregate accounts from multiple banks into a single view, gain an in-depth understanding of the financial behavior of your clients, and provide them with a better acumen of their finances. Unnax provides ready-made BaaS solutions, giving you all the technology you need to create your own PFM. Our solutions include account aggregation, data categorization, customer analytics, money movements, and more. Contact us today to learn more.
To find out more about how you can offer PFM to your users, contact us today.